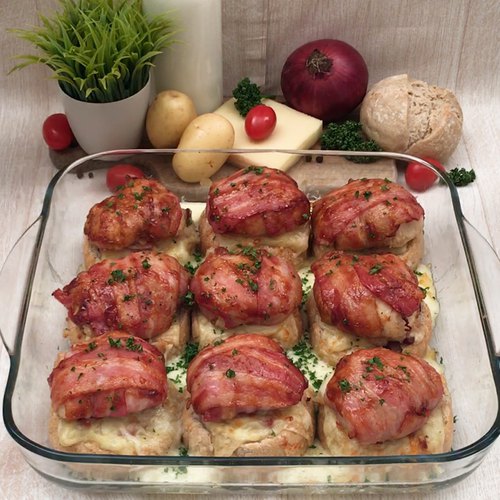 Bacon bread bowl
Bacon and potato having a French style party! 🇫🇷🥓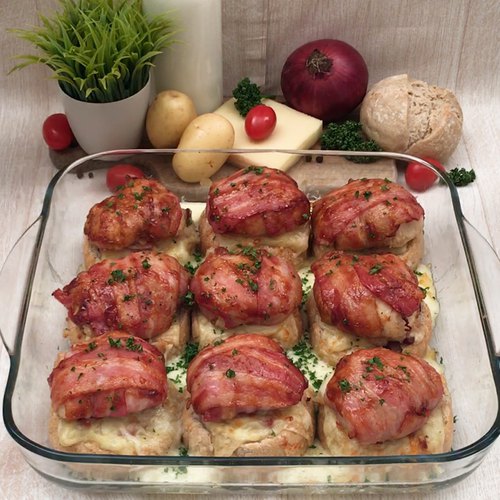 ---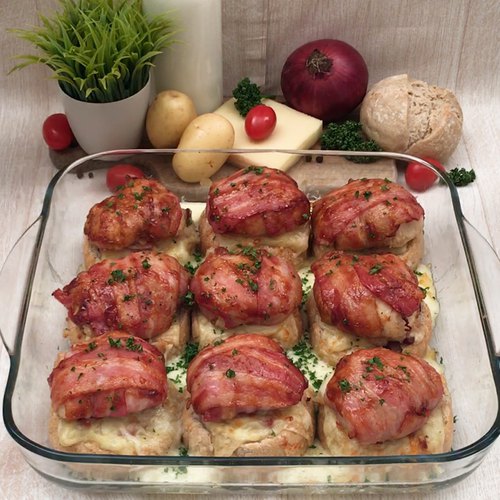 ---
Ingredients for 9 people
1 1/3 lbs of potatoes
1 cup of bacon, diced
1 red onion, chopped
9 bread rolls
5 fl oz of sour cream
12 slices of raclette cheese
9 slices of bacon
parsley
---
Tools
Casserole dish
Parchment paper
---
Step 1/3
Peel the potatoes, cook them in salted water, and cut into slices. Fry the diced bacon with the chopped onion. Cut the tops off the rolls and press the crumb into the bottom to make a hollow.
Step 2/3
Place 1 tablespoon of sour cream in each roll, add 1 slice of potato, and spread half of the bacon onion mix on top. Add another slice of potato and cover with the remaining bacon onion mix. Top each roll with a slice of raclette.
Step 3/3
Wrap each roll's top in a slice of bacon, place them on a baking sheet lined with parchment paper and bake or 15 minutes at 350 °F. Place the filled roll bottoms in the casserole dish. Cut the remaining raclette slices in half and place them between the rolls. Bake for 15 minutes at 350 °F. Remove from the oven, top the filled rolls with the bacon wrapped tops, sprinkle with chopped parsley, and enjoy!