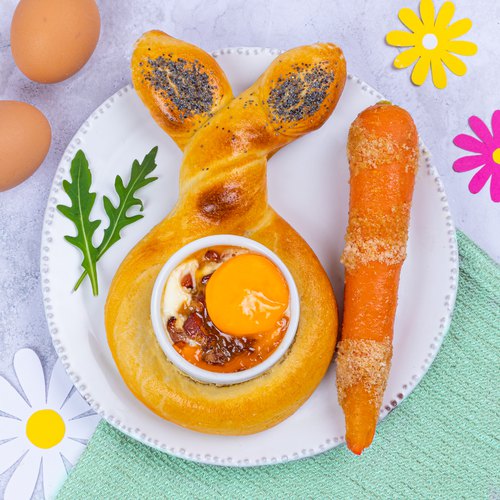 Easter Bunny Shirred Eggs
Easter Bunny Shirred Eggs! An egg-stra special holiday treat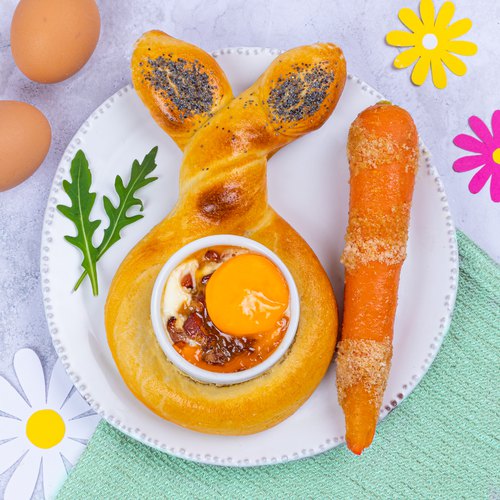 ---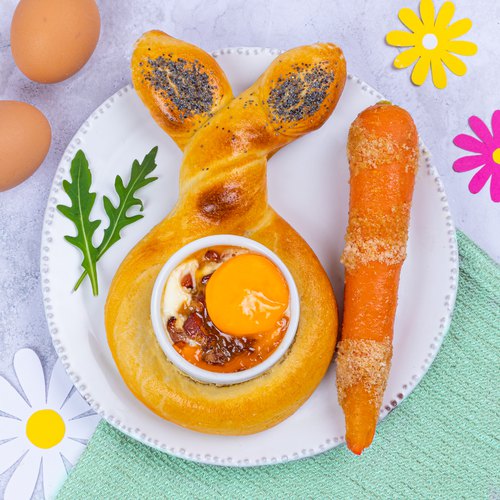 ---
Total time: 30 minutes
Prep time: 5 minutes, Cook time: 25 minutes
Ingredients for 5 people
6 carrots
Salt & pepper
4 crackers
1 pizza dough
5 egg
Sour cream
Caramelized onions
Bacon bits
Poppy seeds
Peppercorns
Butter
Sugar
---
Tools
Ramekins
---
Step 1/5
Start by blanching the carrots in hot water and then immediately transferring them to a pan of ice water to cool. Remove the skin, then cook the carrots in a pan with butter and sugar. Season with a pinch of salt and pepper to taste.
Step 2/5
Crush the crackers into a fine powder. Create three lines of the cracker powder on a flat surface and roll the carrots over the powder, making sure to coat them evenly.
Step 3/5
To make bunny ear-shaped pizza dough, stretch the dough and wrap it around a ramekin. Shape the dough to create bunny ears, and brush it with egg yolk. Sprinkle poppy seeds on the inside of the bunny's ears for added texture and flavor.
Step 4/5
Set a ramekin inside a small bowl. Place an egg in the ramekin along with sour cream, caramelized onions and cooked bacon bits. Fill the bowl with hot water, bake the egg and bunny pizza for 15 minutes at 350ºF.
Step 5/5
Place the egg ramekin in the center of the bunny pizza. Use peppercorns to create the bunny's eyes, serve with the carrots and enjoy!