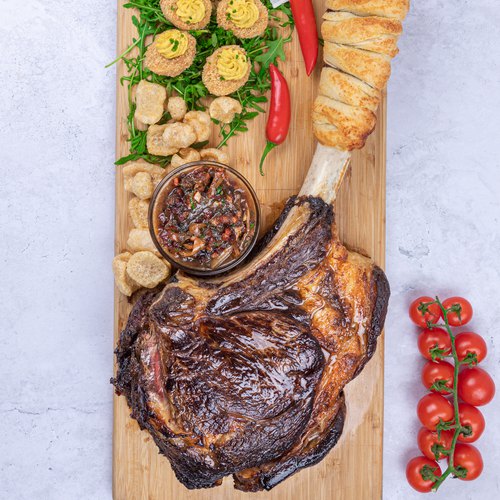 Steak & Crispy Deviled Eggs
Steak & Crispy Deviled Eggs! With a side of smashed potatoes 🥩🍳🥔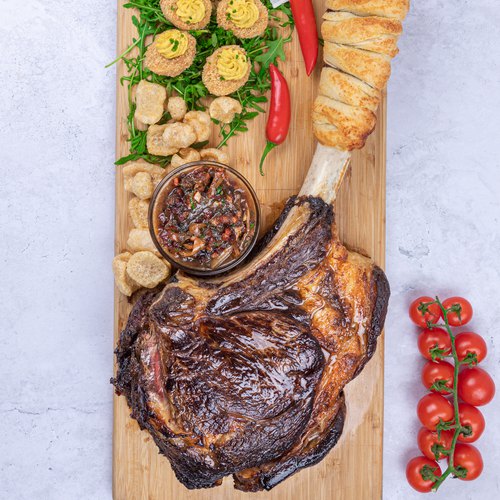 ---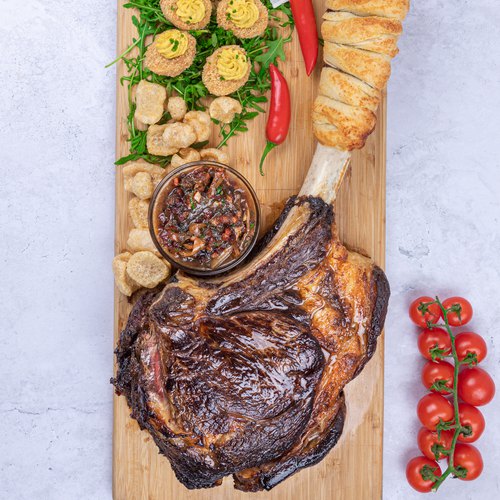 ---
Total time: 2 hours 50 minutes
Prep time: 10 minutes, Cook time: 40 minutes, Rest time: 2 hours
Ingredients for 6 people
6 hard boiled eggs
1 cup of red wine vinegar
2 cups of bbq sauce
3 tbsp of chefclub bbq spice mix
4 pickles
2 oz of mayonnaise
2 tbsp of curry powder
1 cup of flour
1 cup of eggwash
2 cups of pork rinds, crushed
20 red potatoes
2.2 cups of parmesan
1 cup of butter
5 tbsp of herbs
1 head of roasted garlic
2 tbsp of olive oil
1 tomahawk steak
1 pizza dough
1 cup of bacon jam
4 tbsp of chives
---
Step 1/3
Slice each hard boiled egg in half, separate the yolk and reserve. Marinate the hard boiled egg whites in red wine vinegar, bbq sauce and Chefclub bbq seasoning overnight to pickle them. Combine yolk, pickles, mayonnaise, salt and curry powder in a food processor. Blend until smooth. Remove egg whites from bbq marinade and coat in flour, eggwash then crushed pork rinds. Fry in hot oil until golden bornw. Allow to cook and fill th eggs with the egg yolk mixture.
Step 2/3
In a large skillet, heat the oil over medium high heat and press each par boiled potato into the oil to smash them. Season each smashed potato with salt, parmesan cheese, herbs, melted butter and roasted garlic. Allow to sear until the potato skin is crispy and golden brown.
Step 3/3
Roll pizza dough into one long bread stick, coat in olive oil, parmesan cheese and roasted garlic. Wrap it around the tomahawk bone. Slice a pocket in the side of the tomahawk steak and fill with bacon jam. Season the steak and sear in a large cast iron skillet on both sides until golden brown. Bake at 350°F for 35-40 minutes. Serve the steak with the potatoes and deviled eggs. Enjoy!