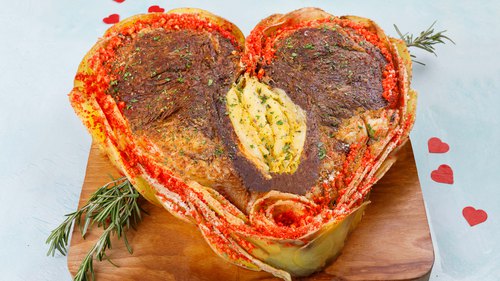 Steak & Potatoes of Love
Steak & Potatoes of Love! Valentine's Day is flammin' hot this year ❤🙂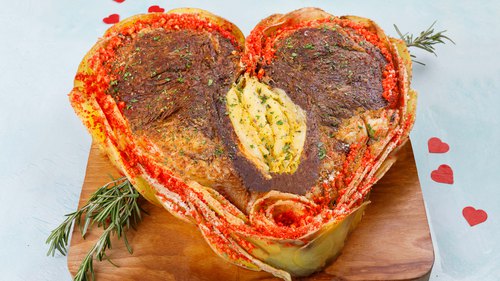 ---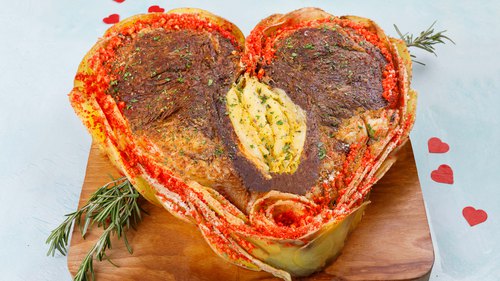 ---
Total time: 1 hour 30 minutes
Cook time: 1 hour 30 minutes
Ingredients for 6 people
4 potatoes
2 prime rib
Garlic powder
Parmesan
Salt and pepper
Butter
Flamin' hot cheetos
Thyme
Half and half cream
Olive oil
Mushrooms
Caramelized onions
---
Tools
Skewers
---
Step 1/3
Take potatoes and slice them thinly using a mandoline. Place potato slices on baking sheet. In a bowl mix half and half cream, olive oil, salt, pepper, garlic powder, thyme, and parmesan. Pour over potato slices until covered. Place in preheated oven at 350°F for 15-20 minutes. Remove from oven and set aside.
Step 2/3
Take 2 prime rib steaks and create an opening. Stuff them with sauteed mushrooms and caramelized onions. Close the opening with 2 skewers in an 'x' pattern. Add an additional skewer to hold the two pieces together. Season them to taste. Add butter and olive oil. Cook the ribs on a plancha. Brush with 'thyme butter' while cooking. Once cooked, remove from heat. Encircle the ribs with the hot potato slices all the way around making a heart shape.
Step 3/3
Place aluminum foil around the potatoes and bake for 10-15 minutes. Remove from oven and remove foil. Add crunched flamin' hot Cheetos that have been mixed with Parmesan cheese. Enjoy!