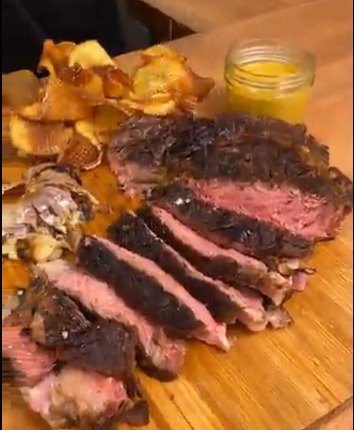 Whopping Burger Pie
Whopping Burger Pie! This is unbugerlievably good 😋🍔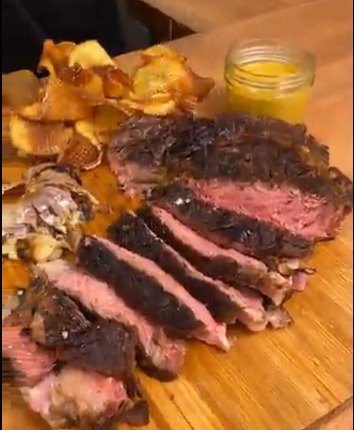 ---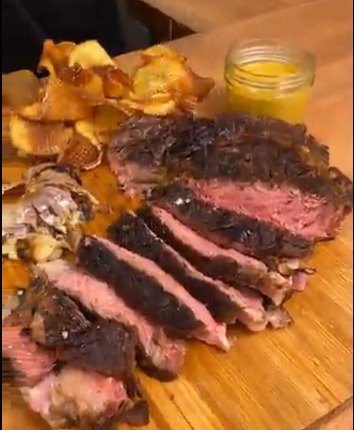 ---
Total time: 1 hour 30 minutes
Cook time: 1 hour 30 minutes
Ingredients for 6 people
1 prime rib
1 cup of whiskey
1 cup of butter
Garlic
Thyme
Salt & pepper
3 potatoes
Vegetable oil
Rosemary
---
Step 1/4
Marinate a rack of prime rib in whiskey and wrap it in a cheesecloth. Spray again with whiskey before placing it in a dry age fridge for 30 days at a temperature between 34.7°F and 35.6°F.
Step 2/4
Take a chef's mandoline and use the wavy blade. Take a potato and turn it at 90 degrees angle every slice to obtain waffle style potato slices.
Step 3/4
Place potato slices in salted cold water for 30 minutes. Pat dry and fry in oil at 350°F to make waffle chips. Remove from oil and add salt.
Step 4/4
Mix butter with herbs. Massage butter into the prime rib. Grill 5-7 minutes on each side. Serve on a plate with the waffle chips. Enjoy!