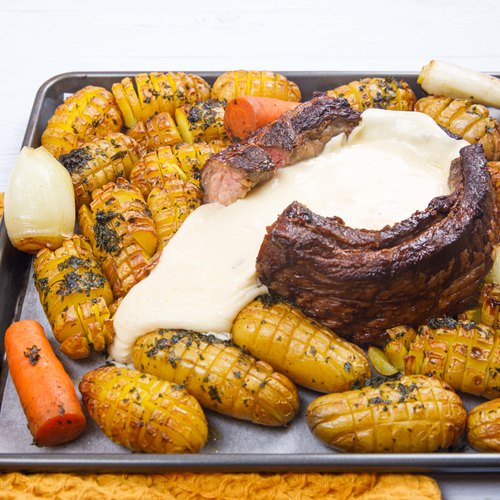 Fondue Meat Up
Fondue Meat Up! You will be a fan of this cheesy recipe 🧀🥩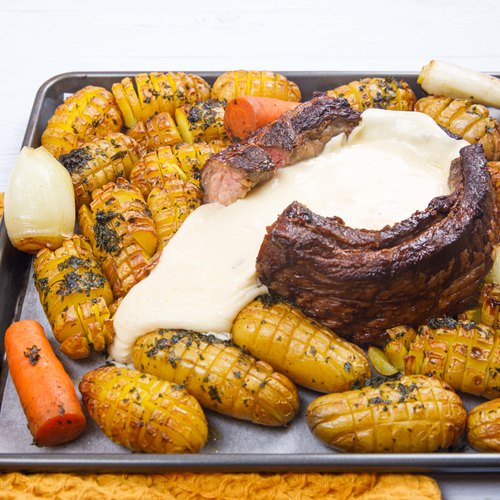 ---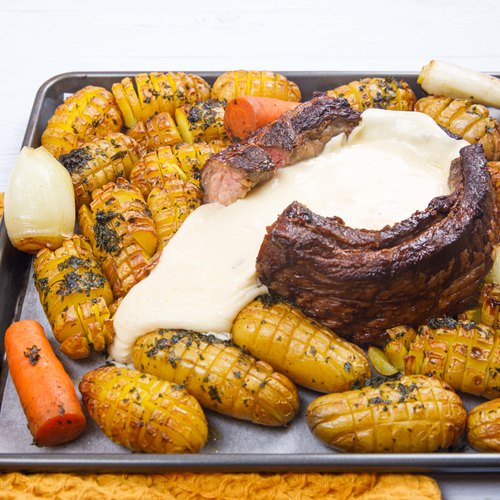 ---
Total time: 1 hour 15 minutes
Prep time: 35 minutes, Cook time: 40 minutes
Ingredients for 5 people
1 clove garlic
1 beef
1 onion
2 carrot
1 leek
20 potatoes
1/4 cup of butter
1 cup of white wine
Parsley
Salt & pepper
Cheese
---
Tools
empty wine bottle
Kitchen twine
Chopsticks
Cling wrap
parchment paper
---
Step 1/3
Cut the beef sirloin in half. Wrap a bottle of wine with cling wrap and wrap the beef around the bottle of wine. Sprinkle with salt and pepper. Tie the slice of beef with the kitchen twine. Cut the leek into 3 parts. Replace the bottle of wine with the onion, carrots and leek. Tie it all together with the the kitchen twine.
Step 2/3
Melt the butter in a hot pan and cook the piece of beef with the vegetables. Drizzle with additional butter. Place the beef on a baking sheet lined with parchment paper. Place the potatoes between 2 chopsticks so as not to cut all the way to the end. Cut them into a grid pattern and brush them with parsley and butter. Place the potatoes on the baking sheet and bake for 40 minutes at 350°F.
Step 3/3
Cut the cheese into pieces and melt it with the white wine and garlic in a saucepan. Remove the vegetables from the center of the piece of beef. Pour the melted cheese in the center of the beef. Enjoy!