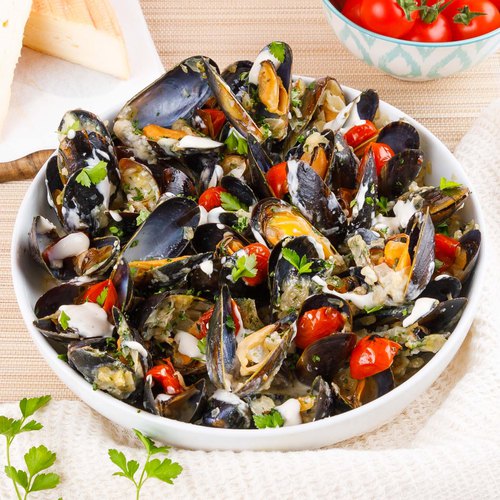 Beerific Mussels
Beerific Mussels! Don't miss out on these mussles 🍻🧀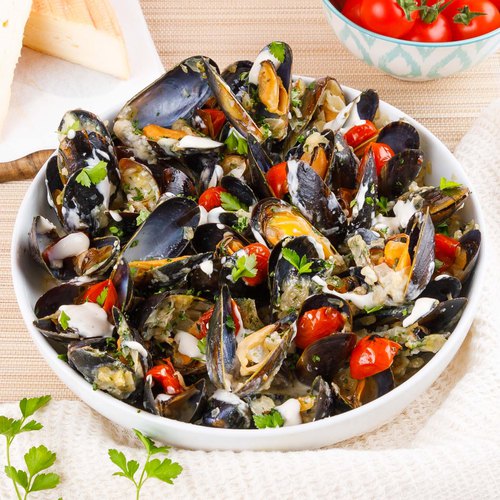 ---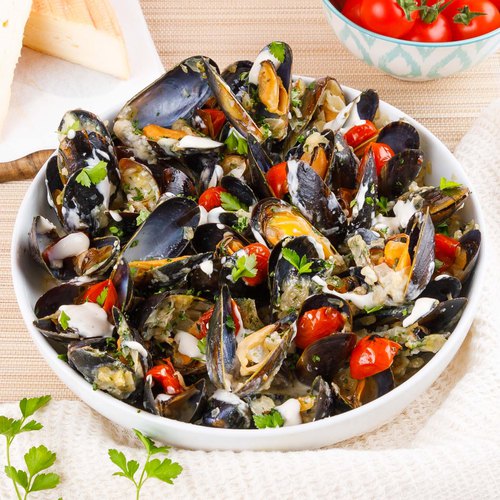 ---
Total time: 45 minutes
Prep time: 30 minutes, Cook time: 15 minutes
Ingredients for 2 people
2 beers
7 cloves garlic
Bay leaves
8 oz of cheese
1 3/4 lbs of mussels
0.4 cup of butter
3 potatoes
Parsley
Cherry tomatoes
---
Tools
Cling wrap
Kettle
Coffee press
---
Step 1/3
Fill half a kettle, uncap a beer and place the bottle in the kettle. Plug in the kettle, let the water boil before removing the bottle with a cloth and placing it in ice water. Repeat the process with a second beer and pour the two beers into the coffee press. Peel 3 cloves of garlic, place them in the beer and add a few bay leaves. Close the coffee maker and gently press to infuse the beer.
Step 2/3
Peel the remaining garlic cloves, cut a slice in the butter then plant the garlic cloves in it and add 2 bay leaves. Insert a few mussels in their shells into the cheese. Place the cheese pierced with the mussels on the slice of butter and cook everything in a hot pan. Pour the remaining mussels into the pan, then the infused beer and cover the pan with cling wrap before letting everything cook for 10 minutes. Remove the cling wrap and place the cooked mussels in a dish with a few slices of cherry tomatoes.
Step 3/3
Cut the potatoes into thin slices, place them in a rosette in a small buttered pan and cook. Flip the rosette to brown both sides and set aside on a plate. Repeat the process to obtain 4 rosettes. Place the rosettes on the plate of mussels, chop some parsley before adding it to the dish and enjoy!