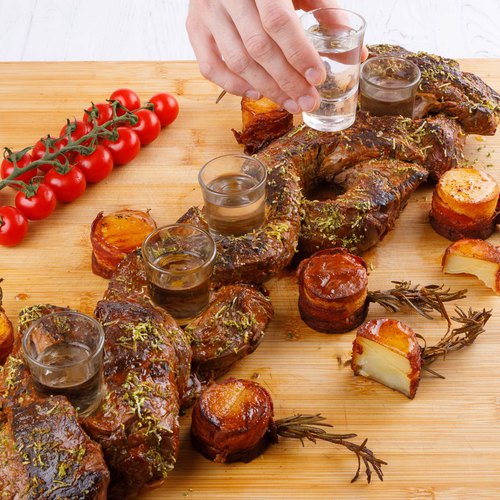 Tequilalicious Beef
Tequilalicious Beef! Time to make some pour decisions in the kitchen today 😋🥃🥩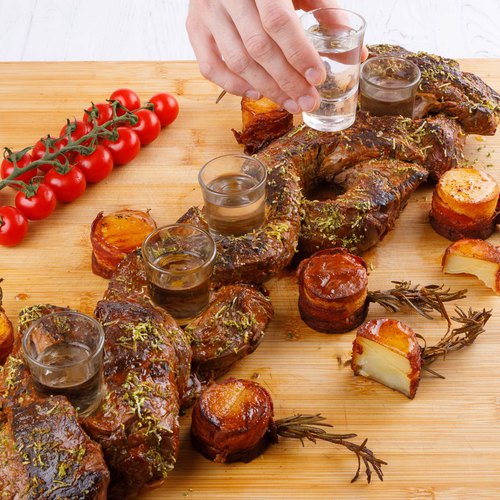 ---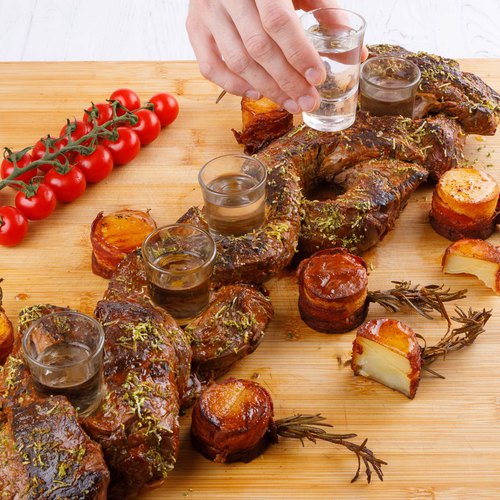 ---
Total time: 1 hour
Cook time: 1 hour
Ingredients for 5 people
2 ribeye steak
Tequila
5 lime zest
Salt & pepper
5 potatoes
5 slices of bacon
5 rosemary sprig
2 1/4 cups of butter
Vegetable oil
---
Tools
Shot glass
Lighter or blowtorch
---
Step 1/5
Take a large piece of ribeye steak and roll it out while cutting a thick strip (starting at the bottom until it is completely unrolled). Season it with salt, lime zest, tequila and BBQ sauce (optional).
Step 2/5
Place the 2 strips side by side then place a shot glass in the center and form an "x" wrapped around the glass. Create a braid around 4 more glasses.
Step 3/5
Preheat a grill. With the help of 2 spatulas move the steak braid to the heat. Light the tequila on fire. Allow the meat to cook. Carefully remove the shot glasses and flip the steak to cook the other side. Once cooked, remove from the heat.
Step 4/5
Using a round cookie cutter, cut out rounds of potato and cut the off the ends (so they are flat). Wrap the potatoes in bacon and poke a rosemary branch through it in order for the bacon to stay in place.
Step 5/5
Place the potatoes in a little bit of hot oil just enough to cook the bottom. After 7 minutes flip to cook the top. Pour melted butter over the potatoes and cook for 10 -12 minutes. Remove from heat and serve with the steak. Enjoy!