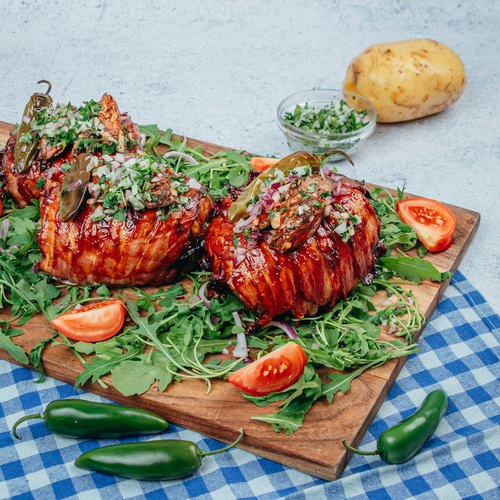 Birria Baked Potatoes
Birria Baked Potatoes! All wrapped up in bacon 🥔🥓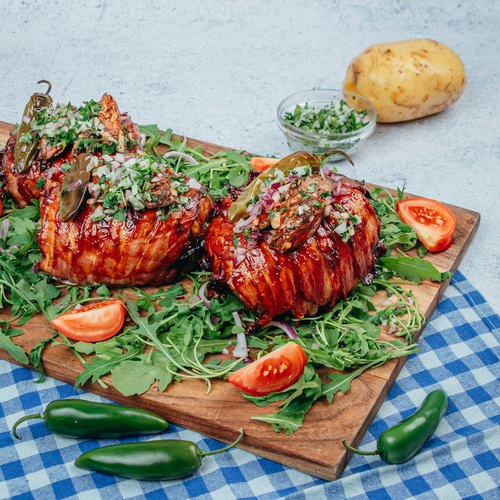 ---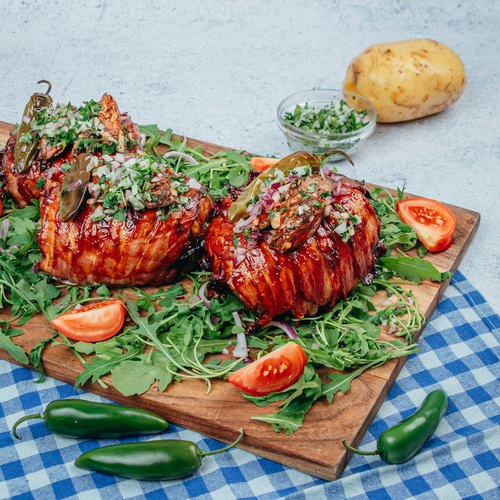 ---
Total time: 5 hours 20 minutes
Cook time: 2 hours 5 minutes, Rest time: 3 hours 15 minutes
Ingredients for 3 people
3 potatoes
2 packages of bacon
Cheddar
Birria sauce
3 guajillo chili peppers
1 can of chipotle peppers
1/4 cup of vinegar
1/2 cup of tomatoes
11 garlic cloves
1 tsp of oregano
1/2 tsp of smoked paprika
1 tsp of cumin
1 onion
1 cinnamon stick
2 bay leaves
2 lbs of flank steak
Chicken broth
---
Tools
Instant pot
Toothpicks
---
Step 1/3
Bring a large pot of water to a boil and then remove from heat. Soak your dried guajillo peppers for 15 minutes. Cut the meat into cubes, season with salt and pepper. Set aside. Add marinade ingredients to the blender. When the peppers are done soaking, remove the stem and seeds. Add to blender. Blend the marinade into a smooth paste. Marinate the meat for a minimum of two hours. Add 2 tbsp of oil to the instant pot and cook the onions (6-8 minutes).
Step 2/3
Add the meat, marinade, bay leaves, cinnamon stick and cloves to the pot. Cover with chicken broth and cook 40-45 minutes. Remove the meat and shred it. Discard the bones and set aside.
Step 3/3
Wrap each potato with 4 bacon strips. Secure with toothpicks. Place on a lightly greased baking pan. Bake uncovered at 325°F for 1 hour and 20 minutes. Once potato is cooked make a small cut and fill with melted cheddar and birria sauce. Top with shredded meat and enjoy!