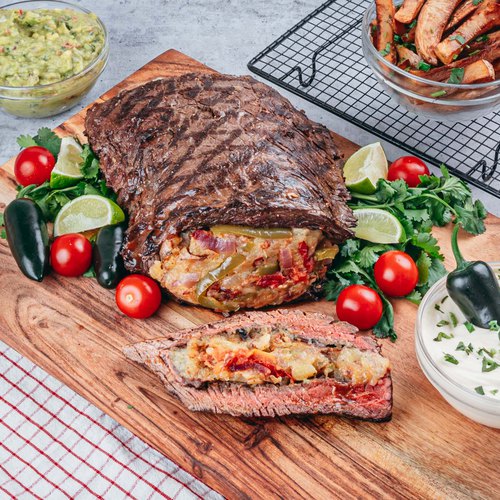 Inside Out Carne Asada
Inside Out Carne Asada! With a surprise stuffing 😏🥩🍟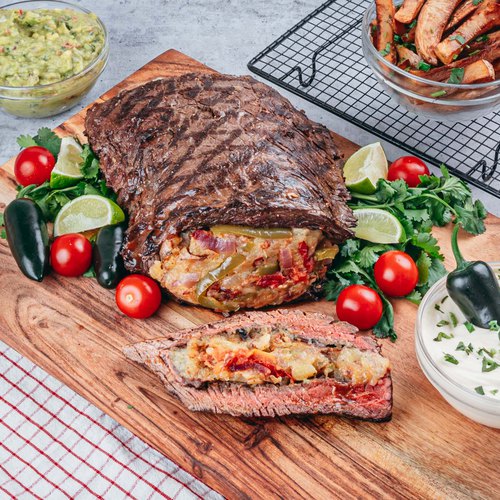 ---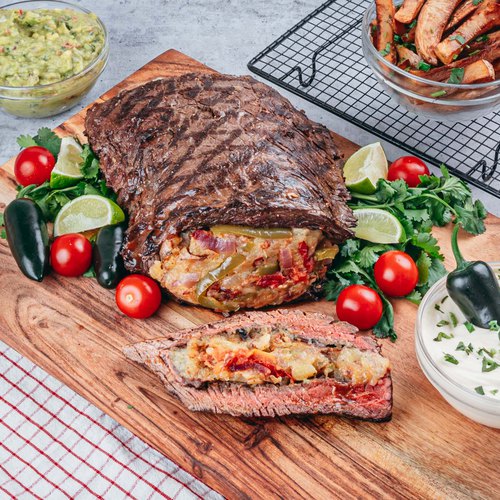 ---
Total time: 45 minutes
Cook time: 45 minutes
Ingredients for 4 people
1 steak
Marinade
4 potatoes
Bacon bits
Salt & pepper
Guacamole
Sour cream
French fries
Cheddar
Bell peppers
Onions
Mozzarella
---
Tools
Foil
Ice cream scoop
---
Step 1/3
Take the steak and cut it in order to create a cavity. Coat the inside and outside with marinade. Cook on the grill, flip inside out and cook once more until done. Set aside.
Step 2/3
Take the baked potatoes and with the help of an ice cream scoop remove most of the inside and place in a bowl. Add bacon bits and cheddar. Season with salt and pepper. Place the potato skins in the skillet. Place loaded potatoes on top. Add cooked bell peppers, onion and mozzarella on top. Bake in the oven until the cheese has melted.
Step 3/3
Place the potatoes on a piece of parchment paper. Tightly roll on itself and place upright in a glass. Place the potatoes inside the steak cavity. Serve with fries, guacamole, cherry tomatoes and sour cream. Enjoy!