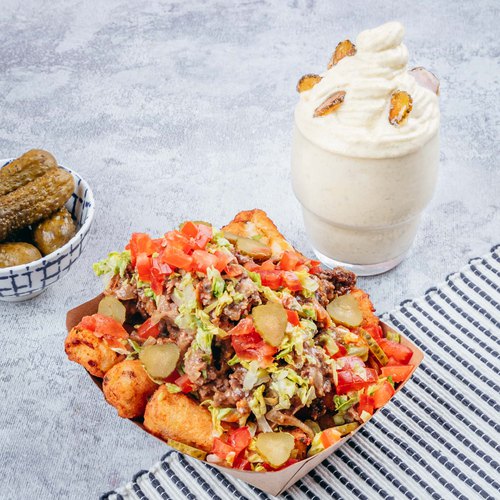 Loaded Tater Tots
Loaded Tater Tots! A meatier version of your favorite snack 😁🥔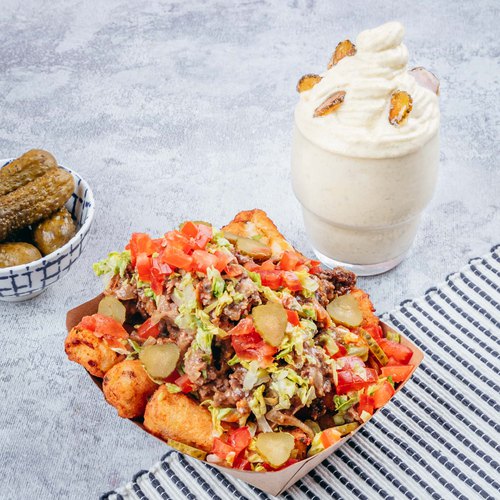 ---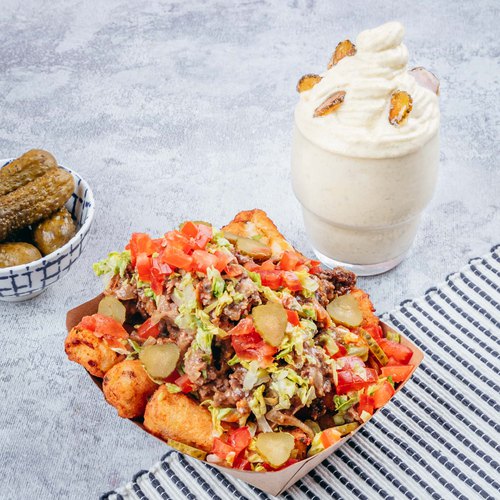 ---
Total time: 35 minutes
Prep time: 5 minutes, Cook time: 30 minutes
Ingredients for 3 people
Ground beef
Pickles
Sauce
Salad
Chives
Vanilla ice cream
Oil
Cheddar
Mashed potatoes
Onions
---
Tools
Blowtorch
Cling wrap
---
Step 1/4
On a sheet of cling wrap add the mashed potatoes to form a rectangle. Add the shredded cheddar on top. Roll the mashed potatoes to contain the cheese. Separate into pieces and fry in hot oil until golden brown. Set aside.
Step 2/4
Roll the ground beef into balls and place on a hot grill. Smash to create patties and cook with onions. Sprinkle with sauce and add the cheese. Set aside.
Step 3/4
In a blender add the pickles and vanilla ice cream. Blend until smooth.
Step 4/4
Add the ground beef to the tater tots. Sprinkle with additional sauce, diced tomatoes and salad. Add slices of pickles to sugar and caramelize with a blowtorch. Add the caramelized pickles to the vanilla-pickle smoothie. Serve and enjoy!