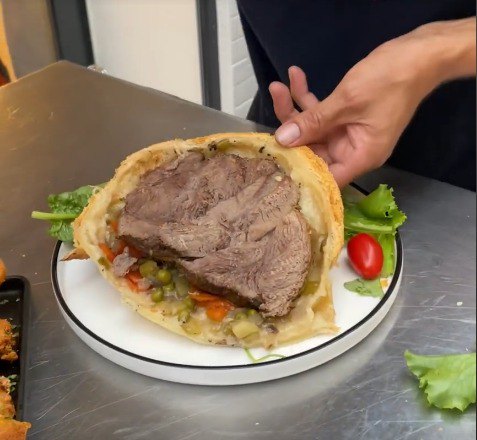 Beef En Croute
Beef En Croute! An amazing dish to surprise your friends 😁🥩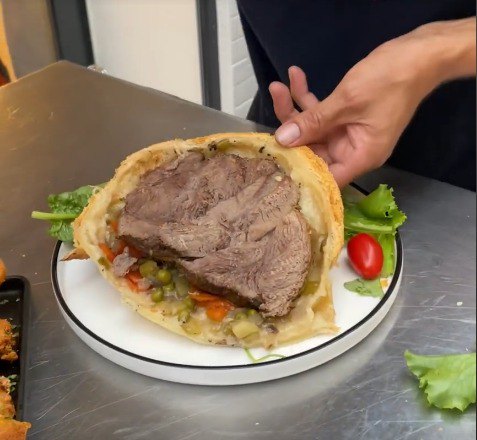 ---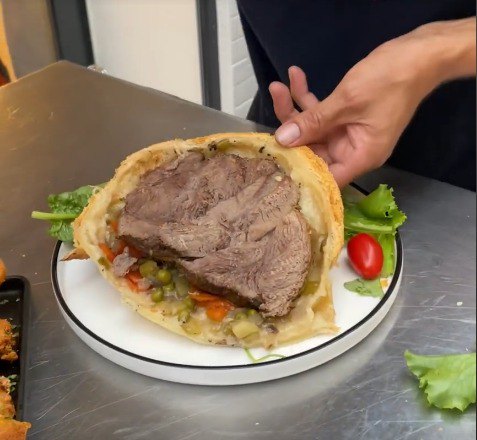 ---
Total time: 7 hours 10 minutes
Cook time: 7 hours 10 minutes
Ingredients for 6 people
Beef shank
Butter
Puff pastries
Gravy
Rosemary
Potatoes
Parsley
Cheddar
Salt & pepper
Oil
Salad
Cherry tomatoes
---
Step 1/4
Sear the beef shank with butter and bake for 6 hours at 100°F.
Step 2/4
Place beef shank on a puff pastry and coat with gravy. Sprinkle with rosemary and add another puff pastry on top. Wrap the beef shank in the puff pastries and bake 1 hour at 100°F.
Step 3/4
With the help of a spiralizer, thinly peel a potato. Place on a flat work surface and coat with parsley butter. Sprinkle with cheddar and cut the potato into triangles. Season with salt and pepper. Roll the potato on itself and secure with a toothpick. Fry in hot oil until golden brown.
Step 4/4
Slice the beef shank and place on a plate with salad. Add some cherry tomatoes and the fried potatoes. Serve and enjoy!