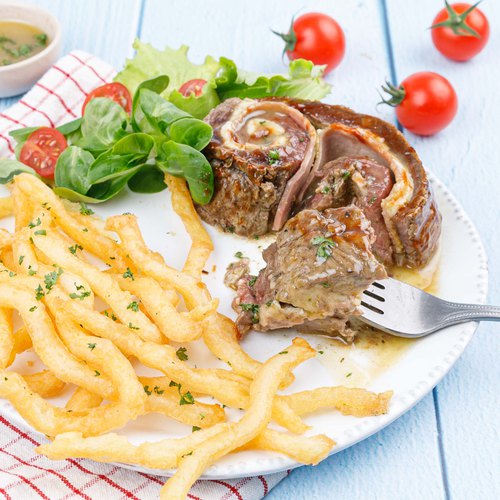 Tenderloin Heart & Sea Of Fries
Tenderloin Heart & Sea Of Fries! All the Mediterranean in one recipe 🍟🏝️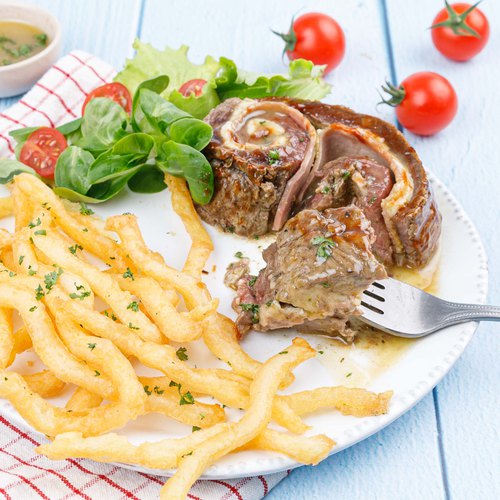 ---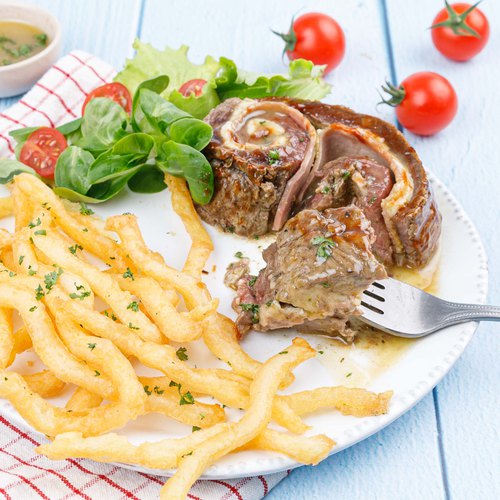 ---
Total time: 1 hour 25 minutes
Prep time: 35 minutes, Cook time: 40 minutes, Rest time: 10 minutes
Ingredients for 5 people
2.2 lbs of beef
1 tbsp of pesto
6 slices of parma ham
12 slices of mozzarella
Chefclub bbq spice mix
3 sprigs of rosemary
1 pinch of coarse salt
1 pinch of salt & pepper
1 tbsp of oil
1 onion
3 cloves garlic
Parsley
Frying oil
Thyme
Honey
Salad
---
Tools
Kitchen twine
parchment paper
Comb
---
Step 1/3
Pour the Chefclub barbecue spices on the work surface and roll the beef on it. Spread the pesto on the beef, add the parma ham slices and the mozzarella slices, then wrap it with the kitchen twine. Add rosemary and place in a baking dish. Drizzle with oil and honey. Season the beef tenderloin with salt and pepper, peel the garlic cloves and the onion, cut the onion into strips and add them with sprigs of thyme. Turn the beef over to sear each side, season again and bake for 40 minutes at 320°F.
Step 2/3
Peel and cook the potatoes in a pot of boiling water. Drain and mash them to obtain mashed potatoes. Spread half of the mashed potatoes on a sheet of parchment paper, then form waves along the length of the mashed potatoes with a comb. Divide the mashed potatoes into three parts widthwise and set aside in the freezer for 10 minutes.
Step 3/3
Cook the squares of mashed potatoes in hot oil to obtain zigzag fries and drain them. Cut the beef into slices. Serve the beef on a plate with the fries. Add salad and season with parsley. Enjoy!