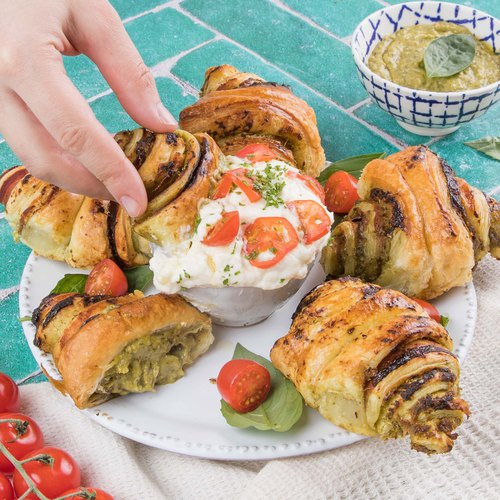 Italian Croissants
Italian Croissants! La dolce vita on a plate 🥰🥐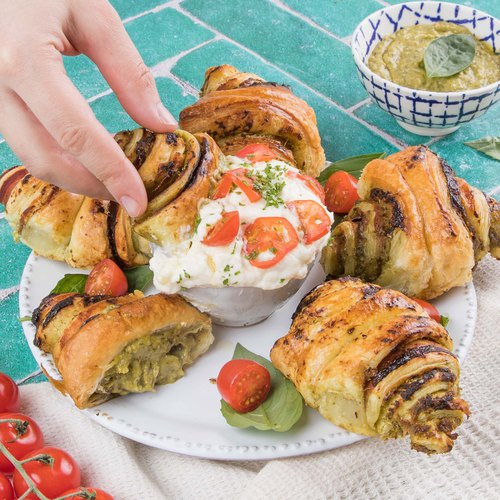 ---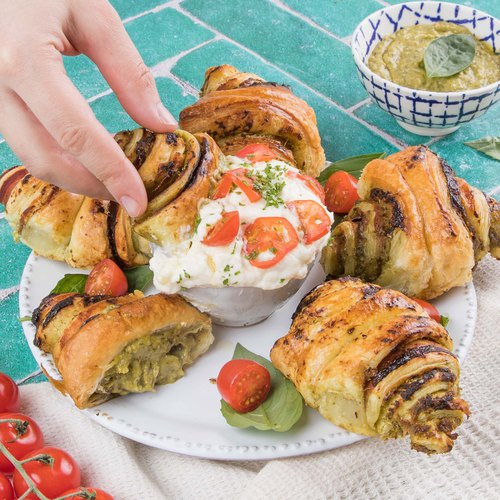 ---
Total time: 1 hour
Prep time: 35 minutes, Cook time: 25 minutes
Ingredients for 4 people
2 mozzarella
1 sprig of thyme
1 bay leaves
2 tbsp of heavy cream
2 pinches of salt & pepper
3 tbsp of pesto
Olive oil
8 slices of parma ham
1 egg yolk
4 basil leaves
Cherry tomatoes
2 puff pastry
---
Tools
parchment paper
Skewers
---
Step 1/3
Place the mozzarellas in the center of a dish, arrange the bay leaf and the thyme around the cheese. Heat the thyme, the bay leaf, put a lid on top to smoke the mozzarellas. Mix the mozzarella, heavy cream, salt and pepper using a manual chopper. Place the mixture in a dish, add a drizzle of olive oil, pepper and set aside.
Step 2/3
Seal the end of 2 rectangular puff pastries. Place the puff pastry on the work surface, spread the pesto, place the Parma ham and roll the dough on itself to form a roll. Cut the dough into 6 rolls and flatten the center of each roll using a skewer. Place them on a baking sheet lined with parchment paper, forming a circle. Brush the egg yolk on the puff pastry rolls and bake for 25 minutes at 350°F.
Step 3/3
Cook the cherry tomatoes in an oiled frying pan. Arrange the circle of filled croissants on a plate, place the mozzarella cream in the center and add the cherry tomatoes. Sprinkle the basil and enjoy!