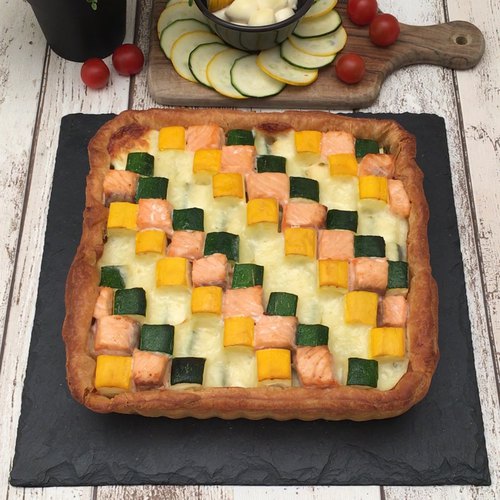 Zucchini quiche
Zucchini and salmon having a zigzag!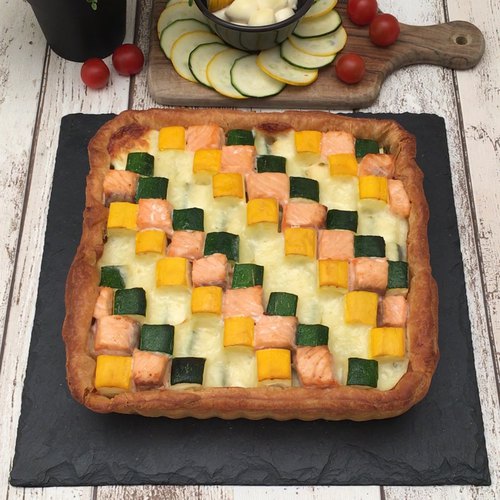 ---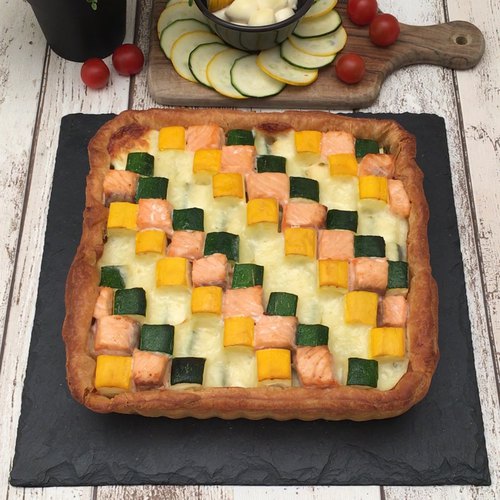 ---
Total time: 1 hour 20 minutes
Prep time: 50 minutes, Cook time: 30 minutes
Ingredients for 4 people
1 puff pastry
4 eggs
1 cup of heavy cream
2 yellow zucchini
2 green zucchini
1 fiillet salmon
20 balls mini bocconcini
mini mozzarella
salt & pepper
---
Tools
Square baking dish
---
Step 1/3
Place the puff pastry in the baking dish. Mix the eggs, cream, salt, and pepper and pour into the dish. Bake for 20 minutes at 350 °F.
Step 2/3
Remove the top and bottom of a zucchini, placed horizontally, remove a 1/4 inch slice from the top. Turn the zucchini over. Make a horizontal cut a 1/2 an inch deep in the middle of the zucchini on one side. Make a vertical cut 1/2 an inch from the edge on the top of the zucchini to join the previous cut and remove a triangular strip along the entire length of the zucchini. Do the same on the other side of the zucchini and repeat with all the zucchini. Cut the carved zucchini into 1/2 inch wide slices.
Step 3/3
Arrange yellow and green zucchini slices upright in the pan alternating until covered. Cube the salmon and place them in the gaps between the zucchini slices, alternating with the mini bocconcini balls. Bake for 30 minutes at 350 °F, slice, and enjoy!