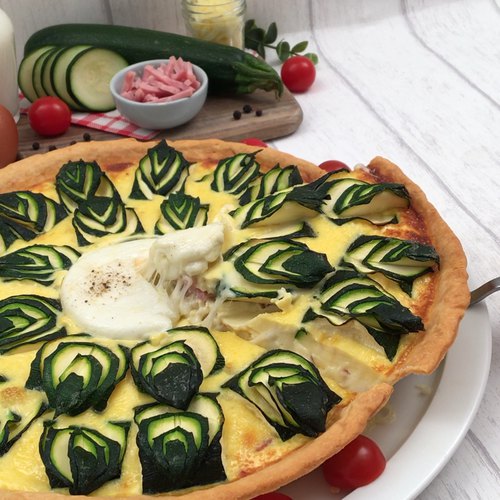 Zucchini Flowers for Dinner
Did someone say quiche?! 🥚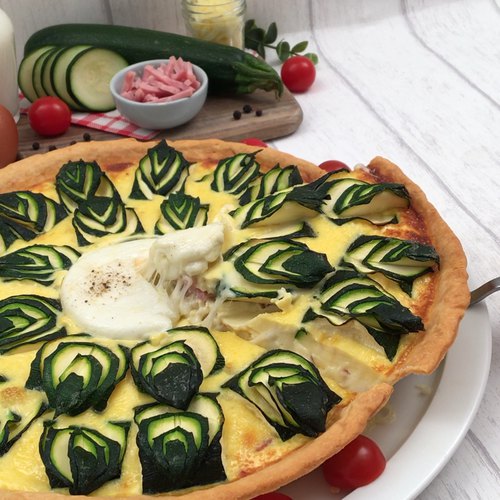 ---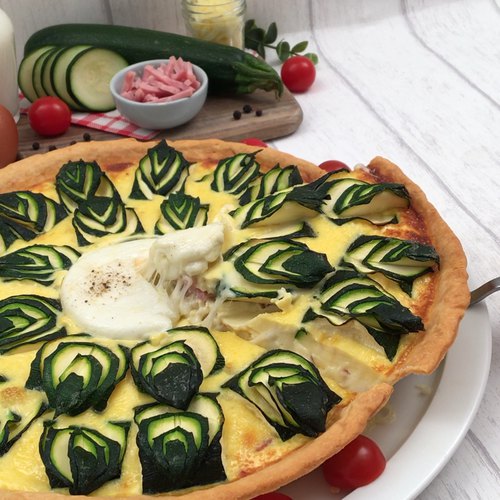 ---
Ingredients for 4 people
3 zucchini
1 pie dough
5 slices of ham, cut into matchsticks
1/2 cup of grated mozzarella
4 eggs
3/4 cup of cream
1 ball fresh mozzarella
salt & pepper
1 pie dish
---
Step 1/3
Cut the zucchini in half lengthwise and then each half into 4 sections. Cut 3 nesting V-shaped wedges into each section of zucchini. Stagger each wedge, fanning them out on top of each other.
Step 2/3
Place the pie dough in the pie dish, fill with dry beans and bake for 20 minutes at 350 °F. Remove the beans and add the ham and grated mozzarella. Arrange the zucchini on top.
Step 3/3
Whisk together the eggs, cream, salt, and pepper and pour into the pie crust. Place the fresh mozzarella ball in the center of the quiche. Season with salt and pepper and bake for 40 minutes at 350 °F. Remove from the oven, slice, and enjoy!