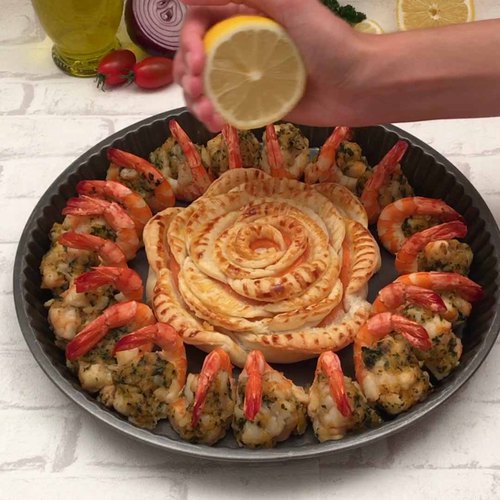 Stuffed Shrimp
With a salmon centerpiece! 🍤🐟🌺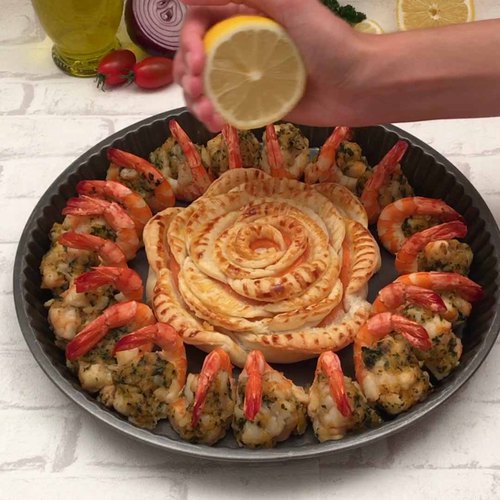 ---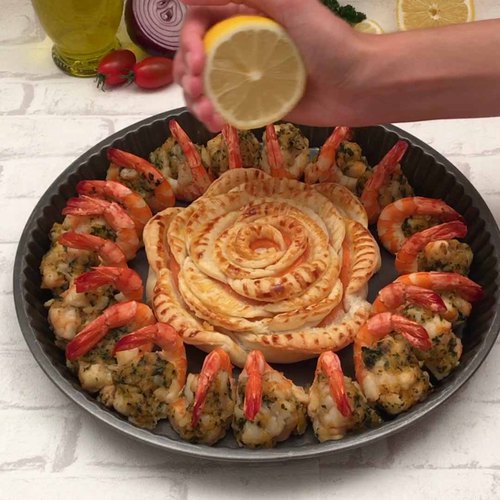 ---
Ingredients for 4 people
2 salmon fillets
1 puff pastry
30 shrimp
2 cloves garlic
2 tbsp of parsley
1 1/2 panko breadcrumbs
2 tbsp of olive oil
4 tbsp of butter
1 shallot
3/4 cup of white wine
1 egg
chili powder, to taste
salt & pepper
lemon juice, for serving
melted butter, for serving
---
Step 1/3
Slice the salmon into thin pieces, cut the puff pastry into discs and then place 6 discs overlapping one another, repeat 2 more times. Press the edges down with a fork, then place the salmon slices on top then roll. Roll all of them together so the rose keeps getting larger. Place in a greased pie plate, and fold down the puff pastry to make it look even more like a flower. Brush with egg yolk. Bake for 5-10 minutes while you prepare the shrimp.
Step 2/3
Chop 10 raw shrimp, then in a sauce pan heat olive oil and butter. Cook garlic and shallot until translucent, then add white wine and reduce. Add breadcrumbs and parsley then mix with the chopped shrimp. Add an egg, chili powder, salt, and pepper.
Step 3/3
Quickly cook the other 20 shrimp, or buy pre-cooked shrimp if available. And butterfly the shrimp down the center leaving the tail intact. Stuff with a heaping tablespoon of filling then place the stuffed shrimp in a ring around the salmon flower. Bake for another 5-10 minutes until the shrimp in the stuffing is cooked and the puff pastry is golden. Serve with lemon juice and melted butter.