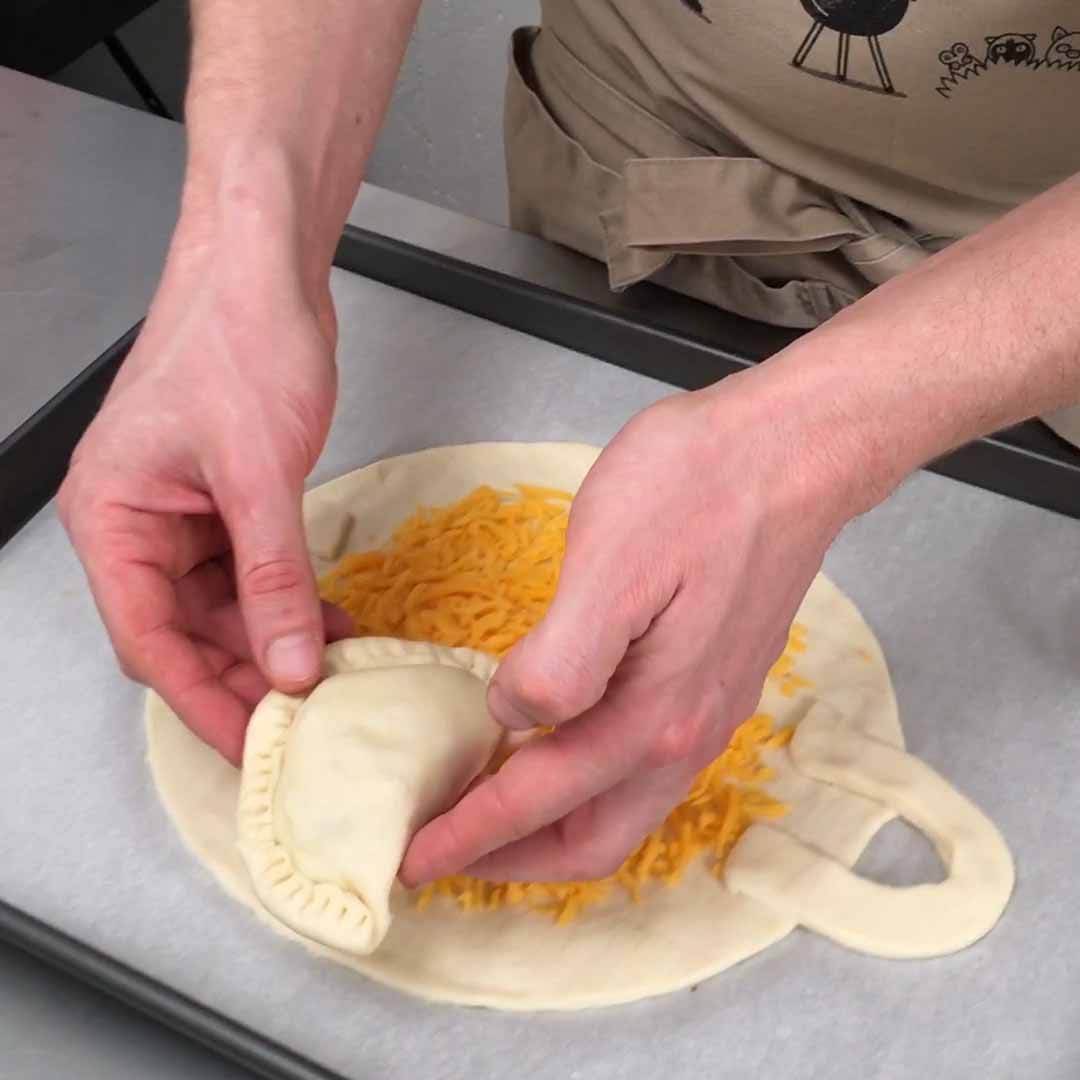 Empanada Pot
An all-in-one dipping feast!
Total time: 45 minutes
Ingredients for 4 people
2 sweet potatoes
1 lb ground beef
Olive oil
2 onions, chopped
2 tsp garlic powder
Salt & pepper
1 1/2 cup tomato sauce
Paprika
Puff pastry
Pizza dough
Shredded cheddar cheese
Water
Egg yoke
Sesame seeds
Everything bagel seasoning
Flour
Guacamole
Salsa
Parsley
Sour cream
---
Tools
Comb
Rolling pin
Foil
---
Step 1/5
Add olive oil to a hot skillet, then cook the ground beef, onions, garlic powder, and tomato sauce adding salt and pepper to season. Set aside. Peel and cube the sweet potato. Cook in olive oil until soft adding salt, pepper, and paprika to season.
Step 2/5
Cut a round of puff pastry into triangles. Add the ground beef mixture to each triangle, then use the comb to seal the edges closed. Repeat with more puff pastry and the sweet potatoes.
Step 3/5
Cover a pizza dough with cheddar cheddar cheese. Cut two strips of pizza dough and use water to attach them to the cheese covered dough using water forming handles. Cover with empanadas. Brush with beaten egg yoke. Sprinkle with sesame seeds and everything bagel seasoning. Bake for 25 minutes at 350 °F.
Step 4/5
Cover another pizza dough with shredded cheddar cheese and top with another pizza dough. Dust with flour, then roll out the dough with a rolling pin sealing the dough. Cover a cake pan with the two pizza doughs, cutting off any excess dough. Cover with beaten egg yoke and bake for 20 minutes at 350 °F.
Step 5/5
When the pot and lid are baked and cooled, place stripes of foil into the pizza dough pot creating six slots. Alternate each slot with salsa and guacamole, then top with sour cream. Garnish with parsley and everything bagel seasoning and top with the empanada lid. Enjoy!