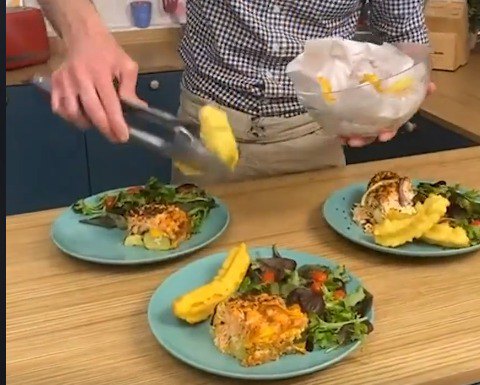 Baked Salmon Delight
Baked Salmon Delight! With zucchini and fries 😋🥒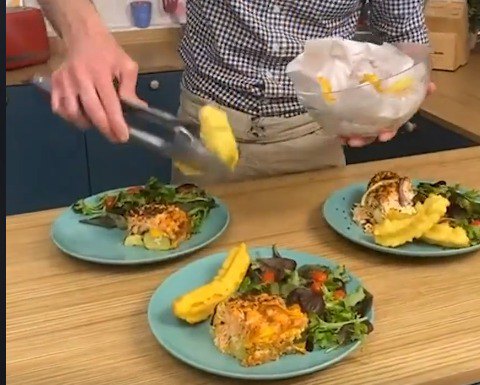 ---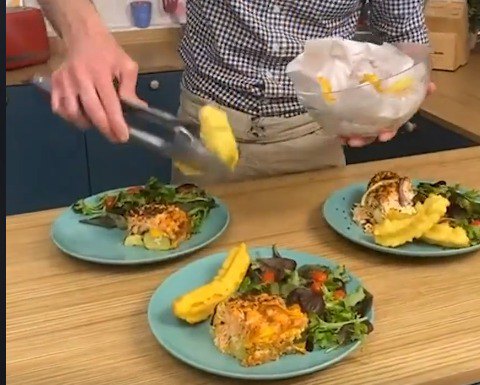 ---
Total time: 1 hour
Cook time: 1 hour
Ingredients for 6 people
2 lbs of salmon
3 zucchinis
4 1/4 oz of cream cheese
3 lemons
Dill
Salt & pepper
3 1/4 oz of cheddar
8 garlic head
1 tbsp of honey
5 tbsp of water
1 tsp of sriracha hot sauce
3 tbsp of soy sauce
Thyme
Bay leaves
Rosemary
1/2 red onion
5 1/2 cups of mashed potatoes
Parsley
Salad
Cherry tomatoes
---
Step 1/5
Take the salmon fillet and place over a wire rack. Pour boiling water over the entire fish and remove the skin. Cut the fish in the middle lengthwise. Cut the salmon in a cross-hatch pattern (do not go all the way through). Set aside.
Step 2/5
Take the zucchinis and cut ¼ out of them (lengthwise). Place ¾ of the zucchinis in a baking dish. Chop the ¼ zucchinis into small pieces and mix with cream cheese. Add lemon juice, dill, salt and pepper. Mix until smooth and add to piping bag. Pipe into the opening of the other zucchinis. Add shredded cheddar on top. Place the salmon fillets over the cheese.
Step 3/5
Take a blowtorch and sear the salmon fillets. In a bowl mix the sriracha, soy sauce, honey, water, thyme, garlic, bay leaves, and rosemary. Add lemon slices and red onions slices. Pour the sauce over the fillets. Bake 30 minutes at 320°F.
Step 4/5
Take a can of chips and cut a star shape in the bottom. Fill the can with mashed potatoes. Push the mashed potatoes through the opening. Fry in hot oil to make fries.
Step 5/5
Remove salmon from oven and serve with salad and cherry tomatoes. Sprinkle with parsley and enjoy!