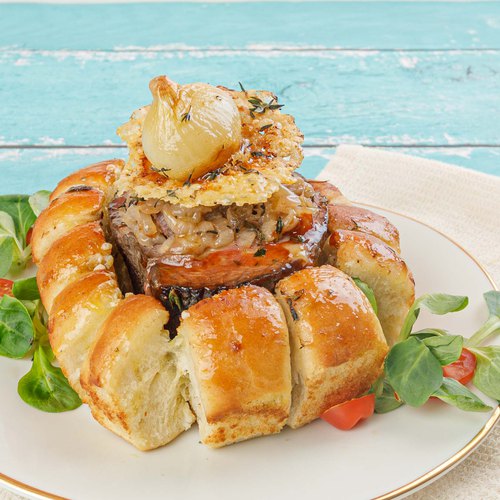 French Onion Steak Sandwich
French Onion Steak Sandwich! You're going to cry for joy after trying this recipe 😆🧅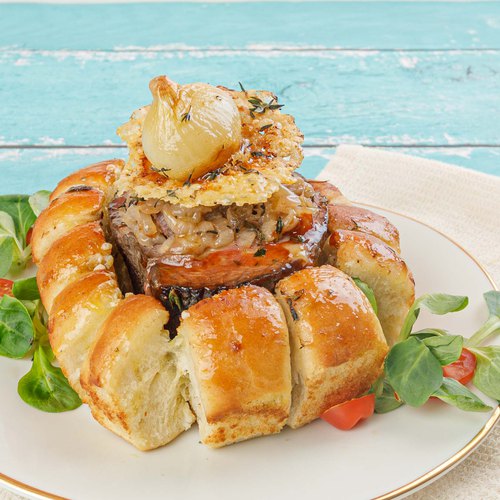 ---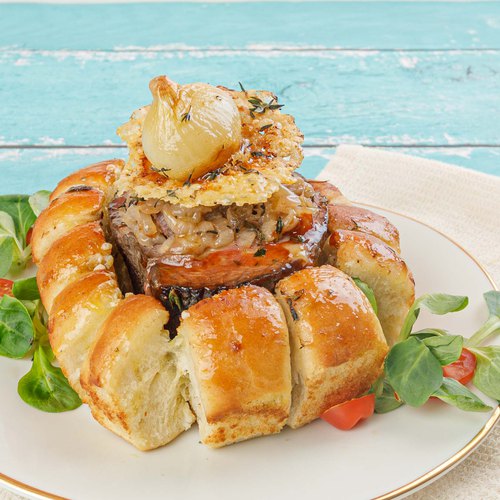 ---
Total time: 2 hours
Cook time: 2 hours
Ingredients for 4 people
3 lbs of flank steak
1 onion
3 tbsp of thyme
1 cup of white wine
1 lb of salt
2 lbs of pearl onions
1 tbsp of olive oil
1 lb of gruyere cheese
1/4 cup of butter
1 package of pillsbury breadsticks
Salt & pepper
Parsley
---
Tools
Dish towel
Apple corer
parchment paper
---
Step 1/4
Preheat the oven to 375°F. Make a cut in the wider bottom of the steak, leaving about 1/2 inch uncut at each side. Then take your knife and slice up through the middle of the meat to create a pocket. Turn the meat inside-out. Combine the sautéed onions and 2 tbsp of chopped thyme, then fill the meat pocket with the mixture. Coat the towel with the wine and then place the stuffed steak in the center. Season with salt and pepper to taste. Wrap the meat in the towel and place it on a baking sheet. Bake for 40 minutes.
Step 2/4
Cut out pieces of gruyere with the apple corer to fit inside each onion. Set aside. Heat the olive oil over medium heat in the large pan. Place the onions top side down then bake for 30 minutes. Remove the onions from the oven and squeeze out the inner part of each onion. Replace the inner part with a piece of gruyere. When the meat has about 10-15 minutes left to cook, add the cheese-filled onions (cheese side down) to the oven and bake until the cheese has melted.
Step 3/4
Line the breadsticks up on a parchment-covered baking sheet so that they are close to each other. Once the meat has cooked, remove it from the oven and let it rest for 5-7 minutes. Turn the oven up to 425°F. Bake the breadsticks for 10-12 minutes until golden. Combine the reserved inner parts of the onion with the butter and allow to melt over low heat. Once the breadsticks are baked, brush the tops with the onion butter. Cut the breadsticks in half through the middle to create two long strips. Cover the cut part with shredded gruyere and return the tray to the oven. Allow the cheese to melt.
Step 4/4
Slice the steak and place 1-2 pieces on a plate. Wrap with the cheesy breadsticks. Place a cheesy onion on top of the steak, then garnish with chopped parsley. Serve and enjoy!