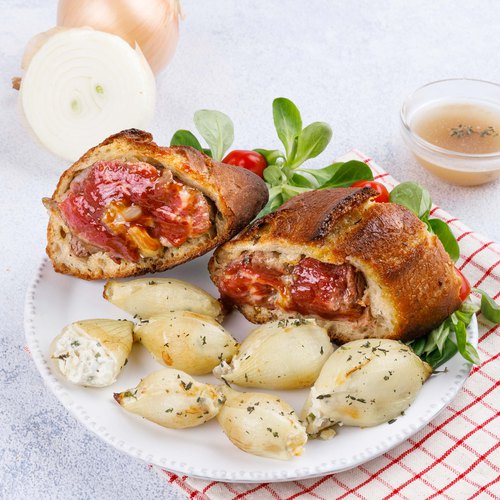 Stuffed Tenderloin Roll
Stuffed Tenderloin Roll! Served with delicious onions 😁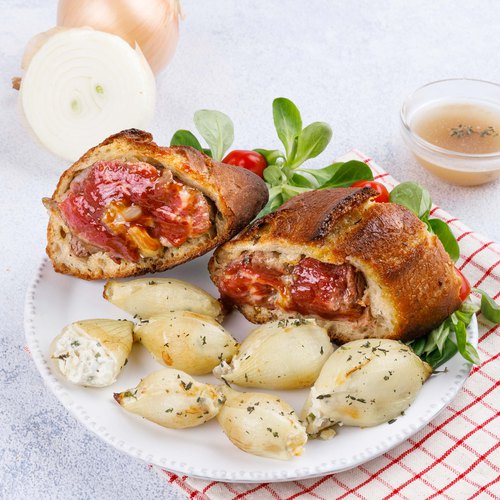 ---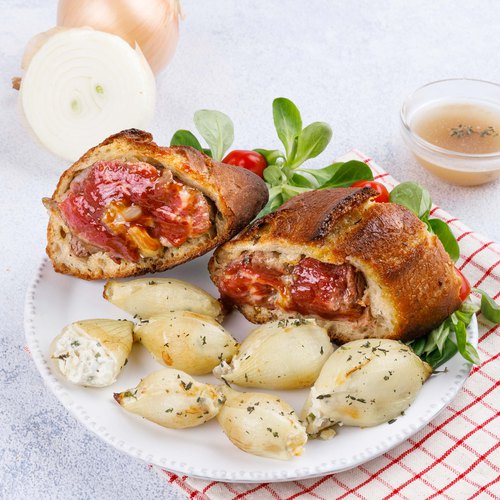 ---
Total time: 1 hour
Cook time: 1 hour
Ingredients for 4 people
4 lbs of beef
2 tbsp of worcestershire sauce
Mayonnaise
2 caramelized onions
16 slices of provolone
Salt & pepper
2 tsp of herbs de provence
12 cups of beef broth
2 french bread
1 cup of onion dip
Olive oil
2 tbsp of thyme
2 tsp of herbes de provence
---
Tools
Kitchen twine
Scissors
Rolling pin or metal rod
Thermometer
Air fryer
Pastry brush
---
Step 1/4
Preheat the grill to medium-high heat. Cut down the middle of the tenderloin to open it like a book (leave the very top or bottom part uncut to form a seal at one end, about a 1/2" - 1" uncut). Sprinkle the Worcestershire sauce over the inside of the meat and spread with a pastry brush. Add mayonnaise to taste and spread evenly over the inside of the meat. Then add the caramelized onions and sprinkle the herbs de Provence over the onions. Layer the sliced provolone over the onions so that the edges of the cheese are overlapping. Fold the sides of the tenderloin up to cover the fillings, then secure with kitchen twine. Season the outside of the beef with salt, pepper, and more herbs de Provence to taste. Sear the tenderloin on all sides, then remove from the grill.
Step 2/4
Pre-heat the oven to 350°F. Cut a small opening in the remaining whole onion. Bring broth to a boil in the pot, then once boiling add the onions. Bring to a simmer and let the onions cook for about 12 minutes until tender. Remove from the broth with a pasta skimmer. Retain the broth and allow the onions to cool enough to handle. Press out the insides of the onions. Fill the insides of each onion shell with onion dip. Heat the air fryer to 350°F. Add the stuffed onion shells to the air fryer and coat lightly with olive oil. Air fry for 10-12 minutes until crisp and golden.
Step 3/4
*The loaf of bread you choose should be large enough to accommodate the beef tenderloin when whole* Cut the top 1/4 of the loaf of bread off with a bread knife, then press down the inside of the bread with the rolling pin to hollow it out. Add the tenderloin to the inside of the loaf of bread and place on a baking sheet. Bake to your desired temperature until done.
Step 4/4
Slice the stuffed bread into individual servings and serve with the stuffed onion shells sprinkled with fresh, thyme, additional broth and the remaining bread. Enjoy!