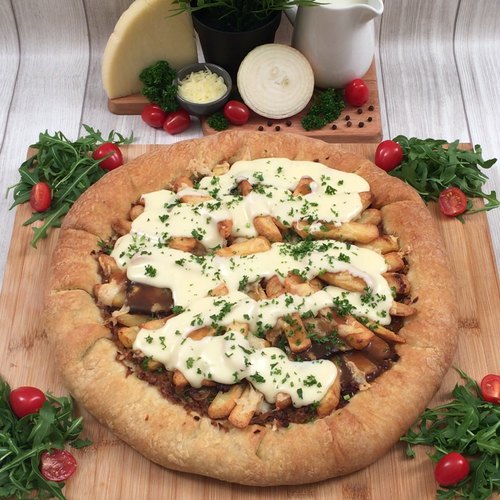 French Dip Pizza
No need to order fries on the side! 🤪🍟🥩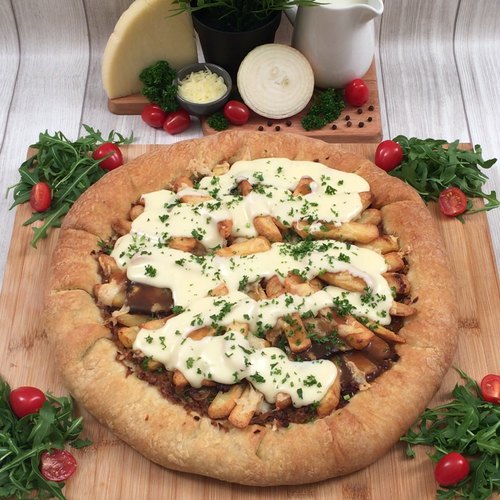 ---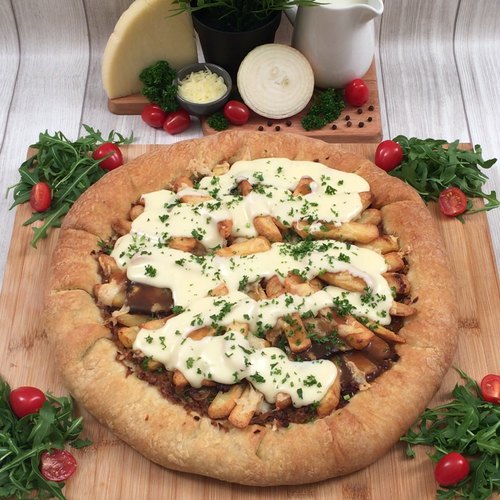 ---
Ingredients for 6 people
1 lb of round roast
olive oil
salt & pepper
1 onion, chopped
1 pizza dough
8 oz of provolone cheese
french fries, pre-cooked
2 tbsp of butter
1/4 cup of flour
2 cups of heavy cream
1 1/2 cups of shredded mozzarella
au jus, for garnish and dipping
parsley, for garnish
---
Step 1/3
Place round roast in a baking dish. Rub with olive oil, salt, and pepper then bake for 1 hour at 350 °F. If you don't want to make your own roast beef, you can buy premade and skip this step.
Step 2/3
While the meat cooks, caramelize onion in a sauté pan with olive oil, salt, and pepper - cook on a low heat for a long time with continuous stirring. Once onions are done and beef is sliced, place pizza dough on parchment-lined baking sheet and place slices of the beef around the edge of the dough. Shave provolone on top of beef then roll over the edge of the dough to create a stuffed crust. Place the caramelized onions in the center as the "sauce".
Step 3/3
Start layering on top of the onions, first French fries, then roast beef, then cheese, then repeat until you've formed a dome. Bake for 15-25 minutes at 350 °F, cheese should be melted and dough golden brown. In a sauce pan melt 2 tbsp butter and add 1/4 cup of flour, whisk until thick then slowly pour in 2 cups of heavy cream, stir until there are no lumps then add in 1 1/2 cups of mozzarella. Stir. Remove pizza from oven and pour cheese sauce over. Then drizzle with au jus sauce and garnish with parsley. Cut slices and dip in additional au jus. Enjoy!