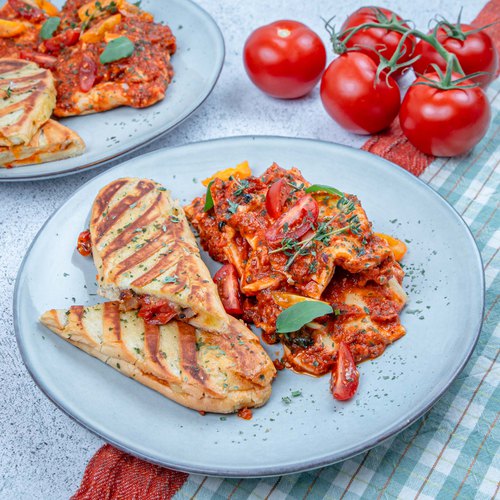 Homestyle Italian Ravioli
Homestyle Italian Ravioli! Served with tomato sauce and garlic bread 😋🥟🍅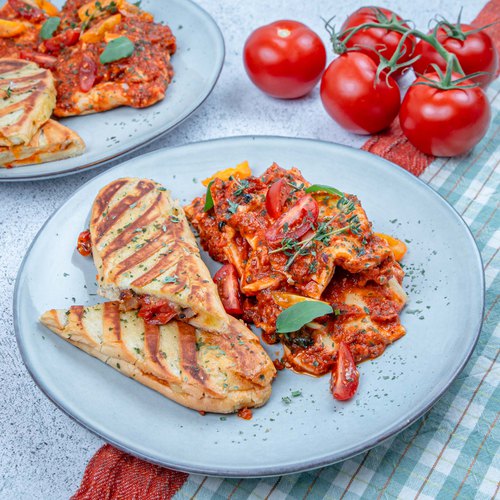 ---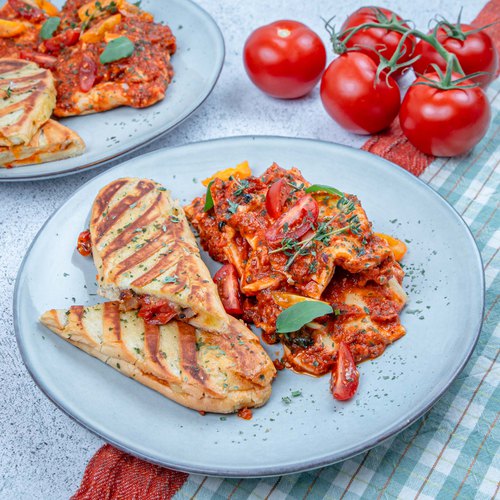 ---
Total time: 1 hour 15 minutes
Prep time: 5 minutes, Cook time: 40 minutes, Rest time: 30 minutes
Ingredients for 3 people
2 cups of flour
4 egg
1 package of italian sausages
3 lbs of tomatoes
8 cloves garlic
1/4 cup of olive oil
1 tbsp of garlic powder
1 tbsp of herbes de provence
1 tbsp of onion powder
Salt & pepper
Hoagie rolls
1/2 cup of butter
1 tsp of parsley
1/4 cup of parmesan
---
Tools
Cling wrap
---
Step 1/5
In a large bowl whisk the flour and salt. Make a well in the center of the flour and add 3 eggs. Add 2 tbsp of olive oil and knead until smooth. Place in bowl and allow to rest 30 minutes. Pass through the pasta machine. Cut small squares out of the dough using a cookie cutter or a glass. Whisk the remaining egg in a small bowl to make the egg wash. Set Aside. Place 1 teaspoon of the sausage filling in the center of half the squares. Lightly brush egg wash around the edge of the ravioli square. Place the second ravioli square on top over the filling and use a fork to close the edges. Continue with the remaining pasta dough.
Step 2/5
Cook the pasta in boiling water for 2-3 minutes. Once they float to the top they are done. Drain the pasta and set aside.
Step 3/5
Preheat the oven to 425°F. Place parchment paper on sheet pan. Add tomatoes cut side up. Add garlic, spices, salt and pepper. Drizzle with olive oil and roast for 20-25 minutes. Add tomato sauce to an oiled skillet to cook with the ravioli.
Step 4/5
Preheat oven to 350°F. Cut the loaf in half, horizontally. Mix the butter, garlic and parsley together in a small bowl. Spread butter mixture over the two bread halves. Bake for 10 minutes. Remove pan from oven. Sprinkle parmesan cheese over the bread and broil for 2 minutes.
Step 5/5
Serve the garlic bread with the pasta and enjoy!