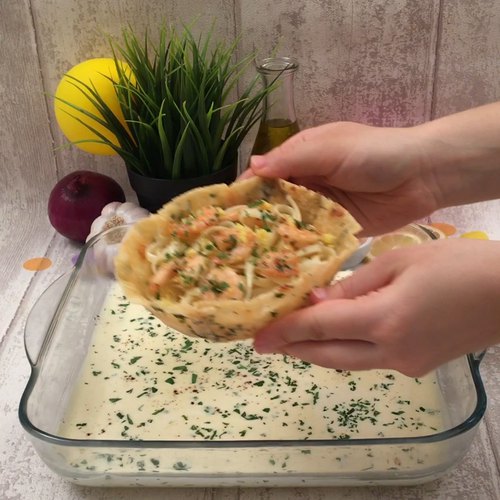 Shrimp Scampi Parm Bowls
Holy SHRIMP... this SCAMPI happening! 🤤🍤🍤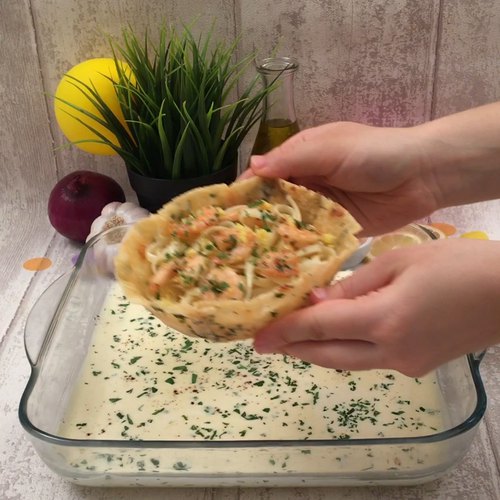 ---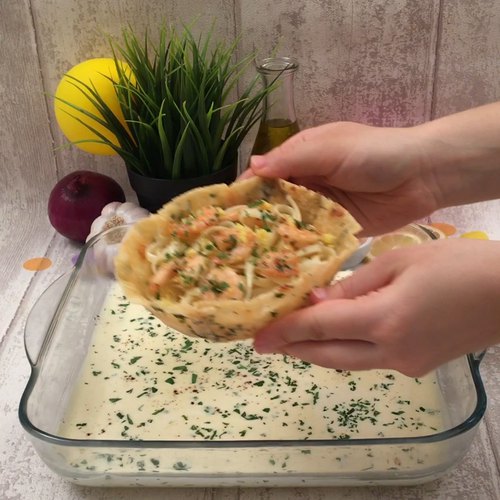 ---
Ingredients for 4 people
2 cups of parmesan cheese, grated
1 bunch of parsley, chopped
2 lemons, zested and juiced
1/3 cup of butter
3 cloves garlic, minced
5 oz of white wine
2 cups of cream
salt & pepper
1/2 lb of linguine noodles, cooked
28 shrimp, cooked
---
Tools
Non-stick frying pan
Small bowl
---
Step 1/4
Set 1/2 cup of grated parmesan cheese aside for the sauce. In the non-stick frying pan, over medium heat, add 1/4 of the remaining parmesan and a pinch of parsley and lemon zest. Cook on medium heat until a lightly golden crust forms on the bottom. Slide the parmesan out of the pan onto the upside down bowl, press the side down so it takes the shape of a the bowl, and cool. Repeat to make 3 more parmesan cheese bowls.
Step 2/4
To make the sauce, combine the butter, 2/3 of the garlic, lemon juice, and white wine in a saucepan and bring to a boil. Stir in the cream and reserved 1/2 cup of grated parmesan and pour sauce into a square baking dish. Sprinkle sauce with some parsley.
Step 3/4
Season the cooked linguine with salt and pepper. Sautee the shrimp in a pan with a little melted butter, remaining minced garlic, and parsley and set aside. To each parmesan bowl add a quarter of the linguine. Top with 7 shrimp and sprinkle with some more lemon zest.
Step 4/4
Arrange the parmesan bowls in the baking dish with the sauce and bake for 10 minutes at 350 °F. When it comes out of the oven, place a parmesan bowl on each plate, spoon some of the sauce overtop of the pasta, and enjoy!