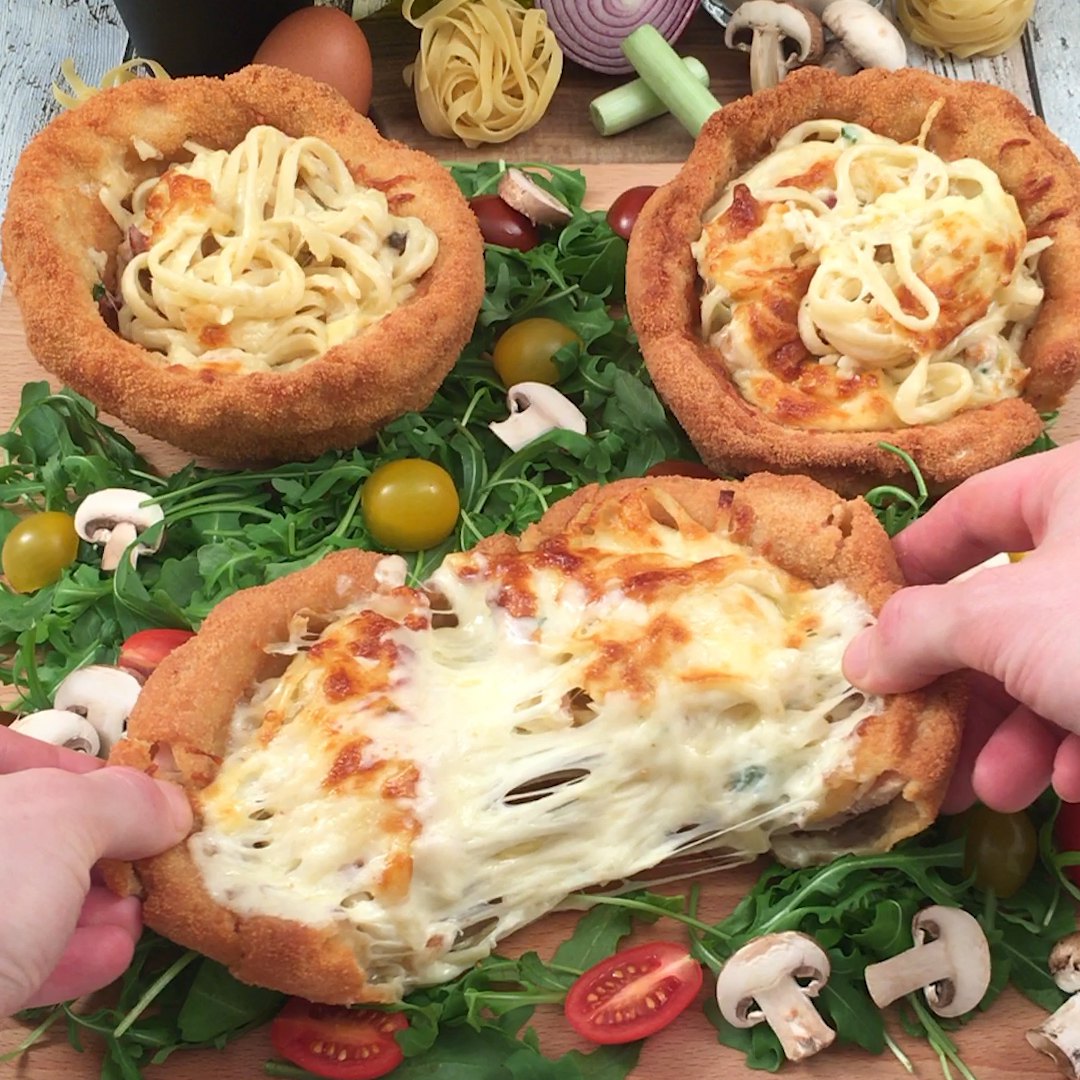 Pasta-Filled Fried Chicken Bowl
Creamy, crunchy, and everything nice!
Ingredients
6 chicken breasts
1/2 lb linguine pasta, cooked
1 1/2 cups sour cream
Parsley, chopped
1 small red onion, chopped
1 1/3 cup parmesan
1/2 cup shredded mozzarella, divided
1 clove garlic, minced
1/4 cup cream of mushroom soup
Salt & pepper
Tools
3 small bowls
Plastic wrap
1. Using a meat tenderizer, flatten out the 6 chicken breasts being careful not to tear the meat. Turn over 3 small bowls and cover with plastic wrap. Mold 2 chicken breasts around each bowl cutting off excess (save and cook the excess), place the bowls in the freezer for 2 hours.
2. When the bowls come out of the freezer, bread them in flour, eggs, and then breadcrumbs and fry in hot oil. Be sure to carefully drain the oil when removing them from the fryer then set aside to let an extra oil drain off. Meanwhile, create the pasta. Mix the linguine with the red onion, parsley, parmesan, half the mozzarella, sour cream, cream of mushroom soup, salt, and pepper. Add in the excess chicken that you cooked and stir to combine.
3. Fill the chicken bowls with pasta mix and then cover with remaining shredded mozzarella. Place in the oven for 10 minutes at 350 °F to melt the cheese. Add a little more chopped parsley for garnish and enjoy!
Similar recipes from Chefclub