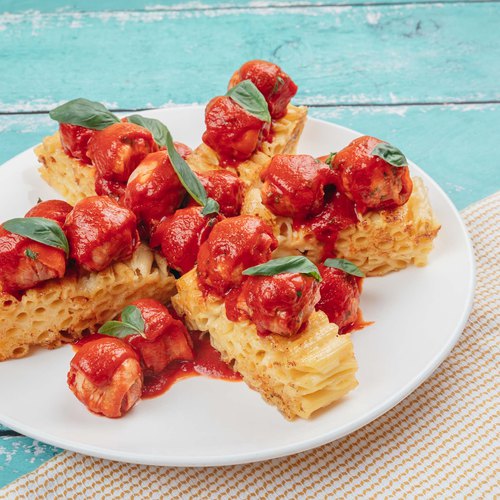 Bolognese Pasta Bake
Bolognese Pasta Bake! With delicious veal meatballs 😋🍝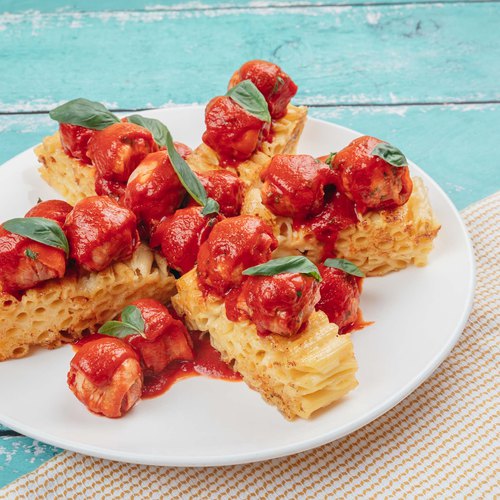 ---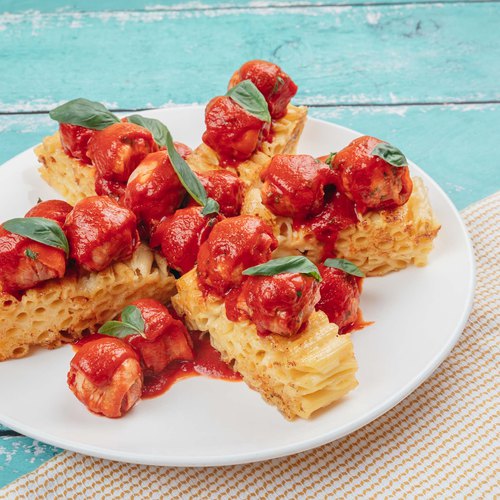 ---
Total time: 1 hour 5 minutes
Prep time: 30 minutes, Cook time: 20 minutes, Rest time: 15 minutes
Ingredients for 5 people
2 cups of penne pasta
1 1/2 oz of mozzarella
1 3/4 oz of parmesan
0.4 lb of ground veal
0.4 lb of sausage meat
3 tbsp of breadcrumbs
0.4 cup of milk
12 slices of bacon
Parsley
1 1/4 cups of tomato sauce
Basil
Salt & pepper
---
Tools
Skewers
---
Step 1/3
Cook the pasta for 10 minutes in a pot of boiling salted water, drain and place in a rectangular glass dish. Add the grated mozzarella, a drizzle of olive oil and pepper, then place a second rectangular glass dish on top and allow to cool. Unmold the pasta and insert 6 skewers at an equal distance into one of the horizontal sides of the penne rectangle. Insert a skewer into each horizontal side at the same height, then cut to obtain pasta skewers.
Step 2/3
Pour the parmesan into a dish, roll each penne skewer in the parmesan, add butter and brown the penne skewers on the griddle. Set the skewers aside. Place two slices of bacon crossed on a ladle. Mix the ground veal, sausage meat, parmesan, chopped parsley, breadcrumbs and milk in a bowl. Form a meatball, place it in the ladle and close the strips of bacon around it. Repeat the process to obtain several meatballs.
Step 3/3
Place the meatballs in a hot skillet, add the tomato sauce, the chopped parsley and cook for 10 minutes. Pour the tomato sauce into a dish, arrange the penne skewers in a star pattern and remove the skewers. Add the meatballs and a few basil leaves. Serve and enjoy!