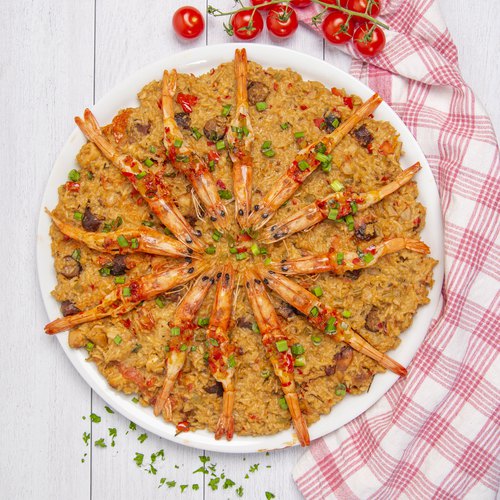 Jambalaya Party
Jambalaya Party! Shrimply the best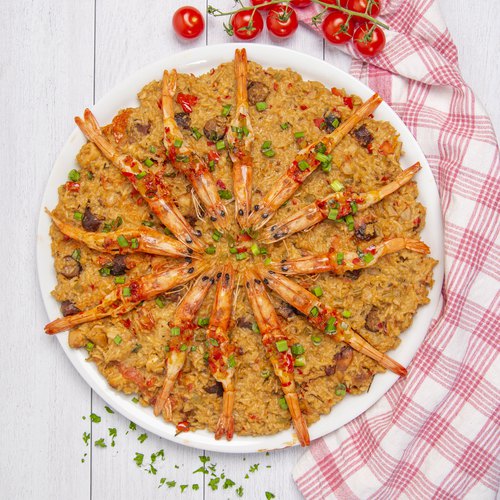 ---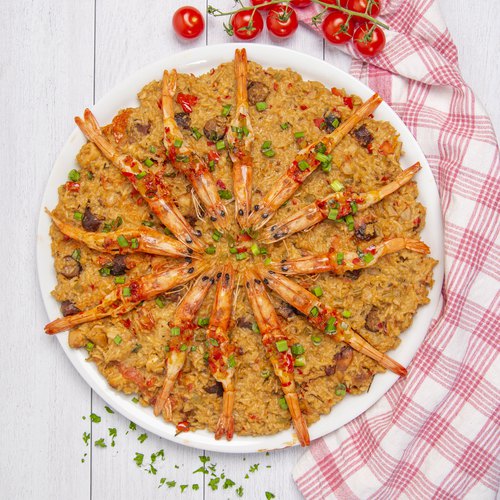 ---
Total time: 55 minutes
Prep time: 15 minutes, Cook time: 40 minutes
Ingredients for 4 people
1 red bell pepper
1/2 cup of oil
1/2 cup of flour
1 celery
10 shrimp
Cayenne pepper
1 onion
Salt & pepper
Tabasco
6 cups of chicken stock
2 cups of rice
4 chicken breasts
4 sausages
Cherry tomatoes
Thyme
Garlic
2 tbsp of butter
---
Tools
Skewers
---
Step 1/4
Place your pot over medium high heat, add the oil and flour. Cook the roux for 15 minutes, stirring constantly. Add in chopped bell pepper, celery and onion. Cook for a few minutes. Add garlic, cayenne, cherry tomatoes and thyme. Mix well, add the rice and chicken stock. Season with salt and pepper.
Step 2/4
Skewer the chicken breasts and sausages. Hang the skewers on the grill, place in the oven along with the rice mixture and bake 35 minutes at 350°F.
Step 3/4
Clean the shrimp and cut along the back. Mix the cooking juices (from the skewers) with butter and tabasco sauce. Garnish the shrimp with the mixture.
Step 4/4
Cut the chicken and sausage into pieces and mix with the cooked rice. Place the shrimp on top and cover with a lid, allow to steam until the shrimp is cooked. Sprinkle with chives, serve and enjoy!