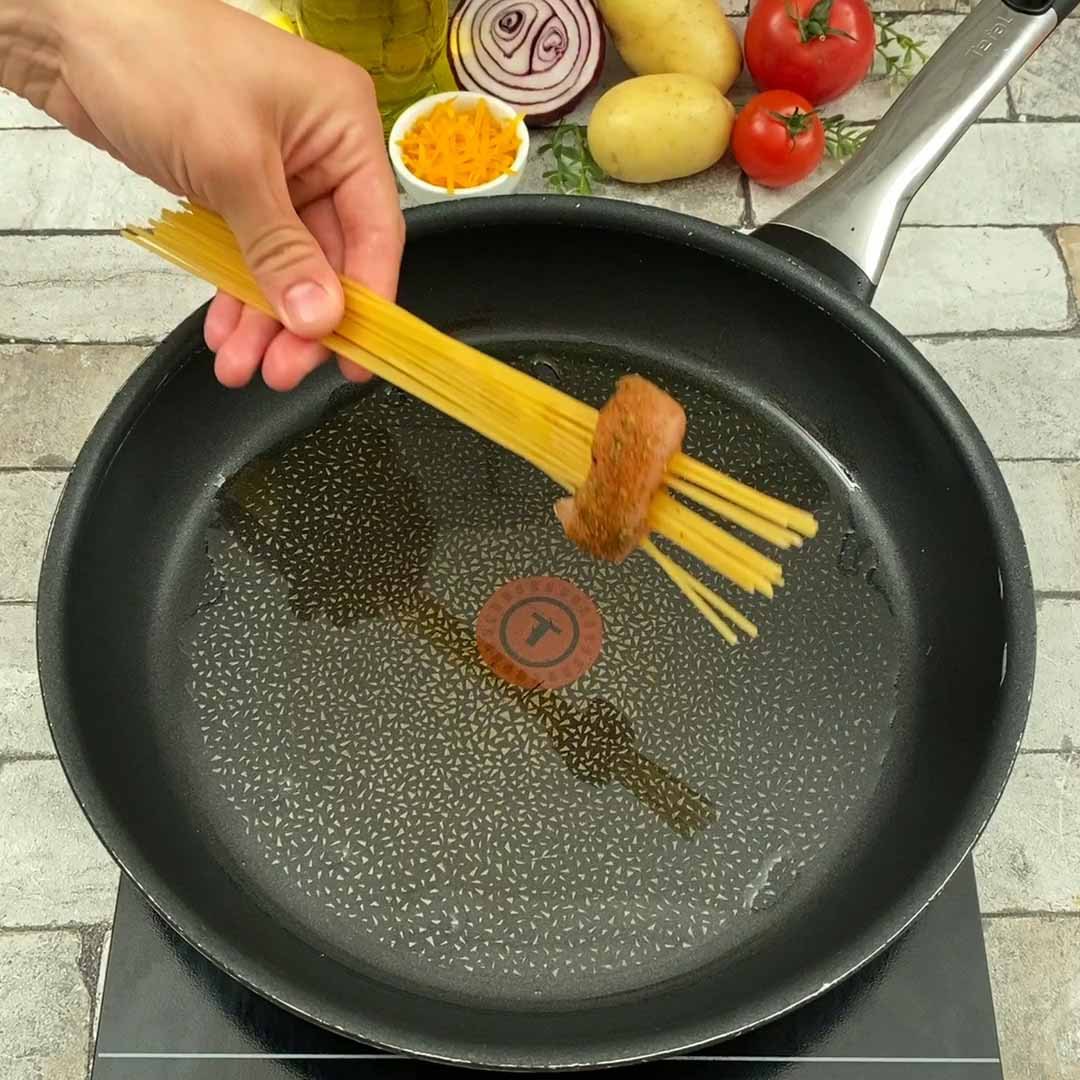 5 Chicken Dinner Ideas
Let's get creative! 👨‍🎨🍗❤️
Total time: 30 minutes
Ingredients for 4 people
Chicken breast
Mac & Cheese, made with spaghetti
Breadcrumbs
Butter
Grated cheddar
2 seasoned chicken breasts
Flour, for breading
Egg, for breading
Breadcrumbs, for breading
Prosciutto
Mozzarella
Butter
Melted cheddar
1 lb ground chicken
Garlic powder, to taste
Paprika, to taste
Oregano, to taste
Salt & pepper, to taste
Mashed potatoes
Cream cheese
Frank's Red Hot sauce
Scallions
Blue cheese crumbles
Diced chicken breast
Poultry seasoning
Salt & pepper
Spaghetti
Olive oil
Onion, diced
Cherry tomatoes, sliced
Spinach
Minced garlic
Salt & pepper
Water
Chicken breast
Spinach & ricotta filling
Sliced cheddar
Salt & pepper
---
Tools
Piping bag
---
Step 1/5
MAC & CHEESE CHICKEN TENDERS: Lay a chicken breast flat on a cutting board and locate the tendon. Using a fork, place the tines around the tendon then hold in place and pull - this will remove the tendon smoothly. Slice the tendon-free chicken breast widthwise then place on top of a parchment paper lined with about 1 cup of spaghetti mac and cheese, roll tightly and place on a cookie sheet. Sprinkle on breadcrumbs, add a small pad of butter and a little grated cheddar. Bake for 20 minutes at 350 °F. Enjoy!
Step 2/5
STUFFED & WRAPPED CHICKEN BREAST: Season a butterflied chicken breast to your liking. Dip in flour, then beaten egg, and finally bread crumbs. On top of the breaded chicken breast, place two pieces of proscuitto and two slices of mozzarella, roll the chicken breasts around the filling and place in an oven-safe baking dish. Dot with butter and bake for 20 minutes at 350 °F. In a sauce pan, melt cheddar cheese and wrap the stuffed chicken breast with melted cheese using a fork. Enjoy!
Step 3/5
BUFFALO CHICKEN SPIRAL: In a bowl mix together 1 lb ground chicken, garlic powder, paprika, oregano, salt and pepper together. Place the chicken mix into a pastry bag and pipe into a spiral in a greased pan at medium heat. Place mashed potatoes into a second piping bag and fill in the spiral with the potatoes. Flip over and cook on other side. Once cooked through, place on a serving dish and pipe out cream cheese in a spiral and fill in the hole with Frank's Hot Sauce. Garnish with scallions and blue cheese crumbles.
Step 4/5
ONE-POT PASTA: Cut up one chicken breast into cubes, season with 1 tbsp poultry seasoning, salt, and pepper. Skewer each cube of chicken with a small handful of spaghetti. Pour a tbsp of olive oil into a saute pan and brown chicken on both sides. Add diced onions, cherry tomatoes, spinach, salt, pepper, and 1 clove of minced garlic on top. Cover with 1 1/2 cups of water and place the lid on. Cook for 10 minutes until water is absorbed and pasta is cooked with a sauce.
Step 5/5
CHEESY-STUFFED CHICKEN BREAST: Slice a shallow checkerboard pattern on top of a chicken breast. Then slice the center open. Fill the center cut with a spinach and ricotta filling. Then place slices of cheddar cheese into the checkerboard pattern. Season with salt and pepper and bake for 20 minutes at 350 °F. Enjoy!