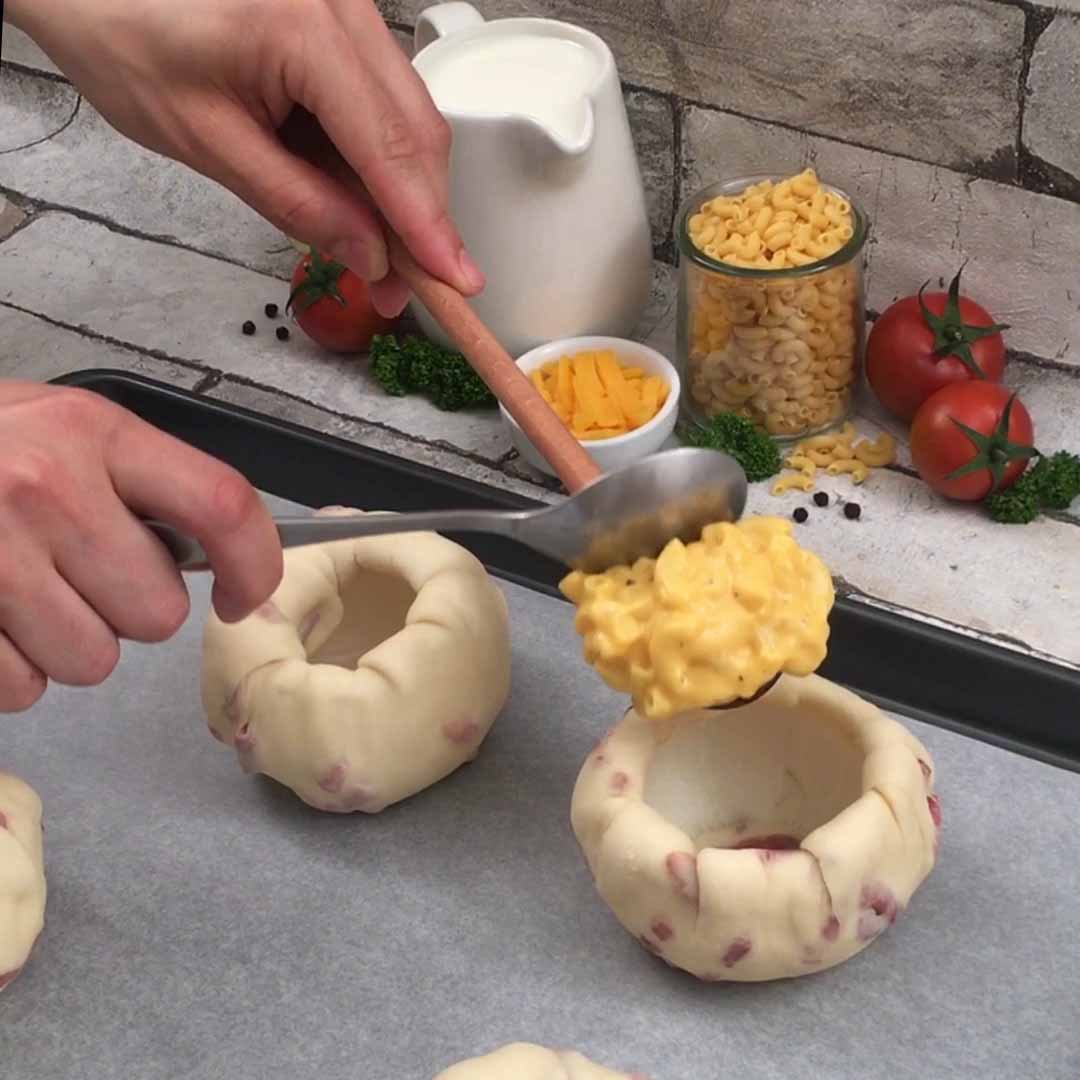 Boomin' Mac & Cheese
It's explosively good! 💥😍🧀
Total time: 30 minutes
Ingredients for 4 people
2 cup macaroni noodles
Pizza dough
4 bacon slices, cooked and chopped
4 onions
1/3 cup butter
1/4 cup flour
1 1/2 cup milk
Salt & pepper
3 cups cheddar cheese, grated
1 packet Velveeta
---
Step 1/4
Boil the pasta, drain and set aside. Cut the top and bottom from the onions and peel them. Remove the center of the onions, keeping the outer rings in tact. Dice the inner rings.
Step 2/4
Cut 8 circles from the pizza dough using a bowl. Place diced bacon on 4 of the dough circles and place a second layer or pizza dough on top of them. Roll the two layers together with a rolling pin to seal the edges. Place the onions ring in the center of the circle and gently pull the dough up around the sides and press the dough into the center. Make sure that the entire onion is covered. Chill.
Step 3/4
Melt the butter and sauté the diced onions. Add the flour and cook until you have a thick paste. While whisking, slowly add the milk making sure there are no lumps. Add the cheese and Velveeta and mix until the cheese is melted. Add the cooked pasta to the cheese sauce. Mix well and fill the center of the onion with the macaroni and cheese.
Step 4/4
Melt three tablespoons of butter in a pan and add the bread crumbs and mix until they are coated. Place the breadcrumbs on top of the macaroni and cheese. Bake for 20 minutes at 350 °F.