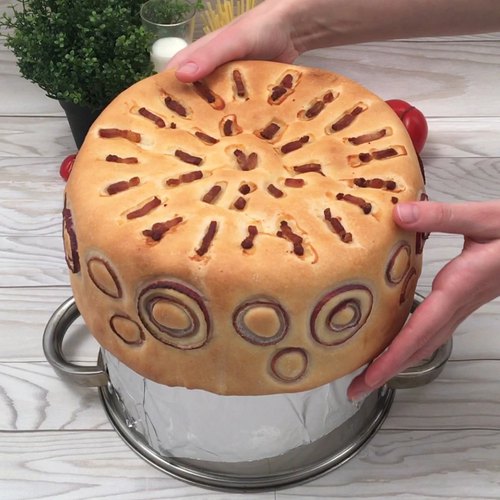 Xtreme Carbonara
Get ready to be wowed!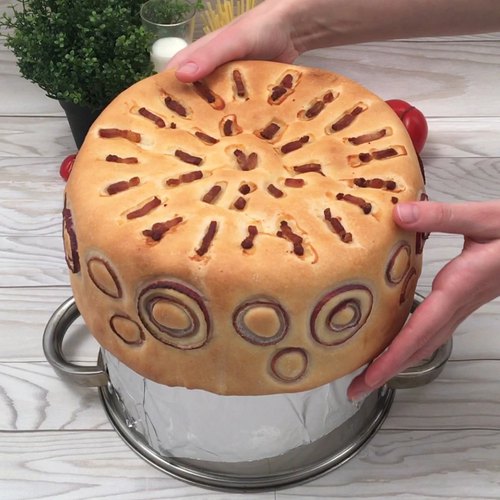 ---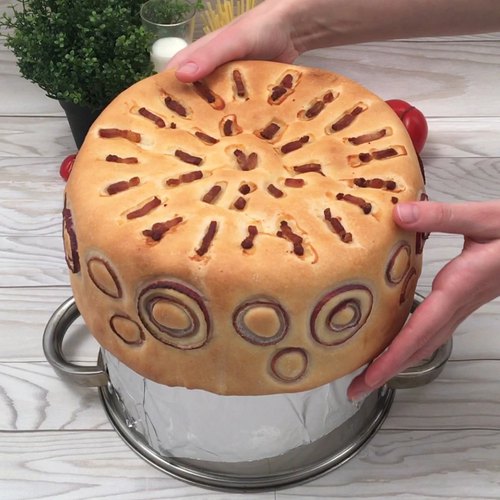 ---
Total time: 1 hour 45 minutes
Ingredients for 6 people
4 pizza doughs
1 red onion, sliced
1 cup of sliced bacon
1 cup of grated swiss
3 cups of pasta carbonara
1 cup of grated parmesan
8 egg yolks
---
Tools
Stockpot
Aluminum foil
Pastry brush
Pen cap
Parchment paper
Toothpicks
---
Step 1/3
Turn the stockpot upside down and cover the bottom well with aluminum foil. Place the first disc of pizza dough over the foil and press to secure it in place. Place the second disc of pizza dough on top of the first and stretch both layers of dough gently down the sides of the pot. Cut the bottom edge to remove the excess dough, leaving a straight line. Separate the slices of red onion and press rings of varying sizes into the dough on the side of the pan to form the desired pattern. Place pieces of bacon in desired pattern on top of the dough. Bake for 30 minutes at 350 °F.
Step 2/3
Place a third disc of dough on parchment paper and sprinkle the third disc of pizza dough with grated swiss cheese to form a ring just inside the edge of the dough. Set aside. Using the fourth disc of pizza dough, Cut 8 slices in the dough, being careful not to cut the edge and the center. Pinch the dough together in the middle of each slice. Brush the outside edge of the bottom pizza dough with a little water and place the other layer of pizza dough on top. Press the edges together firmly. Make a hole in between each pinched section using a pen cap. Place a small disc in the center of the dough and a small ball of dough on top of the disc. Place a smaller circle of dough on top of the ball followed by a small ball in each hole that was made. If desired, place additional shapes of dough in a pattern and add dough handles to your dough lid. Cut small slices around the edge to for a pattern. Bake for 20 minutes at 350°F.
Step 3/3
Remove the dough from the bottom of the pot and turn right side up. Fill the bowl with pasta carbonara and sprinkle the pasta with grated parmesan cheese. Place the lid on top of the dough pot and add an egg yolk on top of each hole in the lid. Poke each egg yolk with a toothpick before serving.