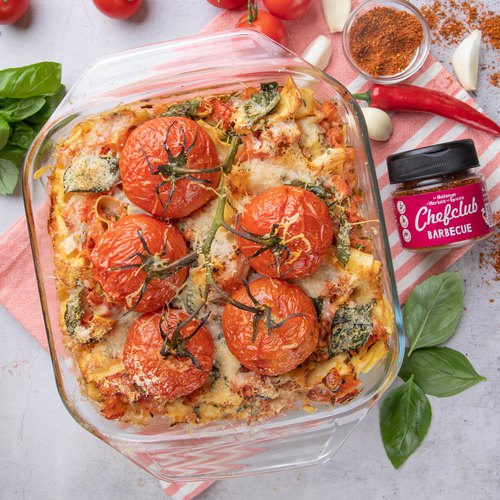 Pasta with Stuffed Tomatoes
Pasta with Stuffed Tomatoes! Break out the good vino for this pasta delight 🍝🍅🍷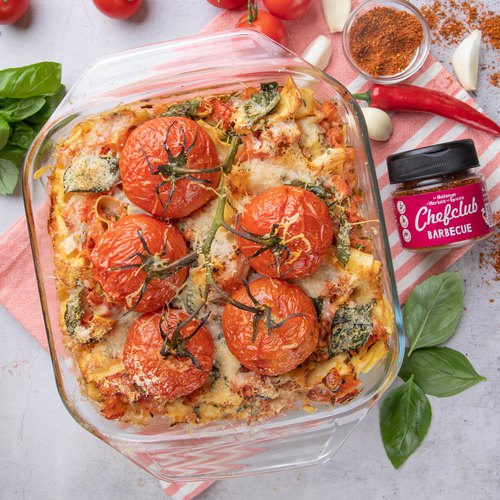 ---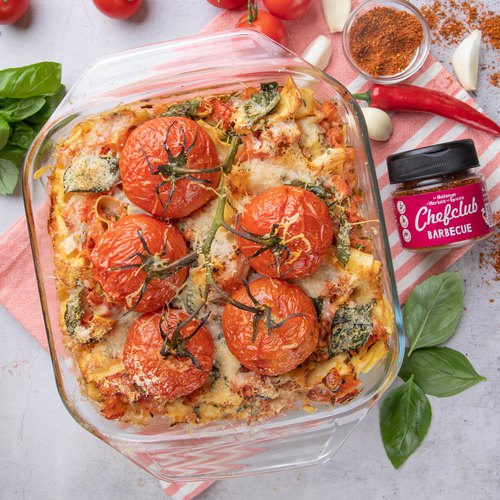 ---
Total time: 30 minutes
Prep time: 15 minutes, Cook time: 15 minutes
Ingredients for 5 people
3 cups of flour
5 egg
8 tomatoes
3 1/2 oz of ground beef
3 tsp of chefclub bbq spice mix
1 clove garlic
Parsley
3 1/2 oz of parmesan
4 tbsp of olive oil
Chives
Salt & pepper
---
Tools
Rolling pin or metal rod
Ice cream scoop
---
Step 1/5
Put all the flour on a table, dig a hole in the center and add the eggs. Mix until you get a smooth dough and let it rest for 15 minutes.
Step 2/5
Remove the insides of the tomatoes with the help of the ice cream spoon. Sprinkle Chefclub bbq mix over the ground beef and knead. Stuff the tomatoes with the ground beef.
Step 3/5
Roll out the dough with the rolling pin and place it on the steel grill. Place the grill over a pan of boiling water and pass the rolling pin over the dough to cut it into the boiling water.
Step 4/5
Stick 1 fork in each tomato, make a cut on the surface of each one and place them in boiling water for 30 seconds. Remove from the water and remove the skin. Place the pasta in the dish and add a drizzle of oil on top.
Step 5/5
Cut the tomatoes into cubes and place them in the dish. Season with the chopped chives and garlic. Sprinkle the parsley over the top, add salt and pepper, oil and grated parmesan. Sprinkle with basil leaves. Bake for 18 minutes at 350°F. Serve and enjoy!