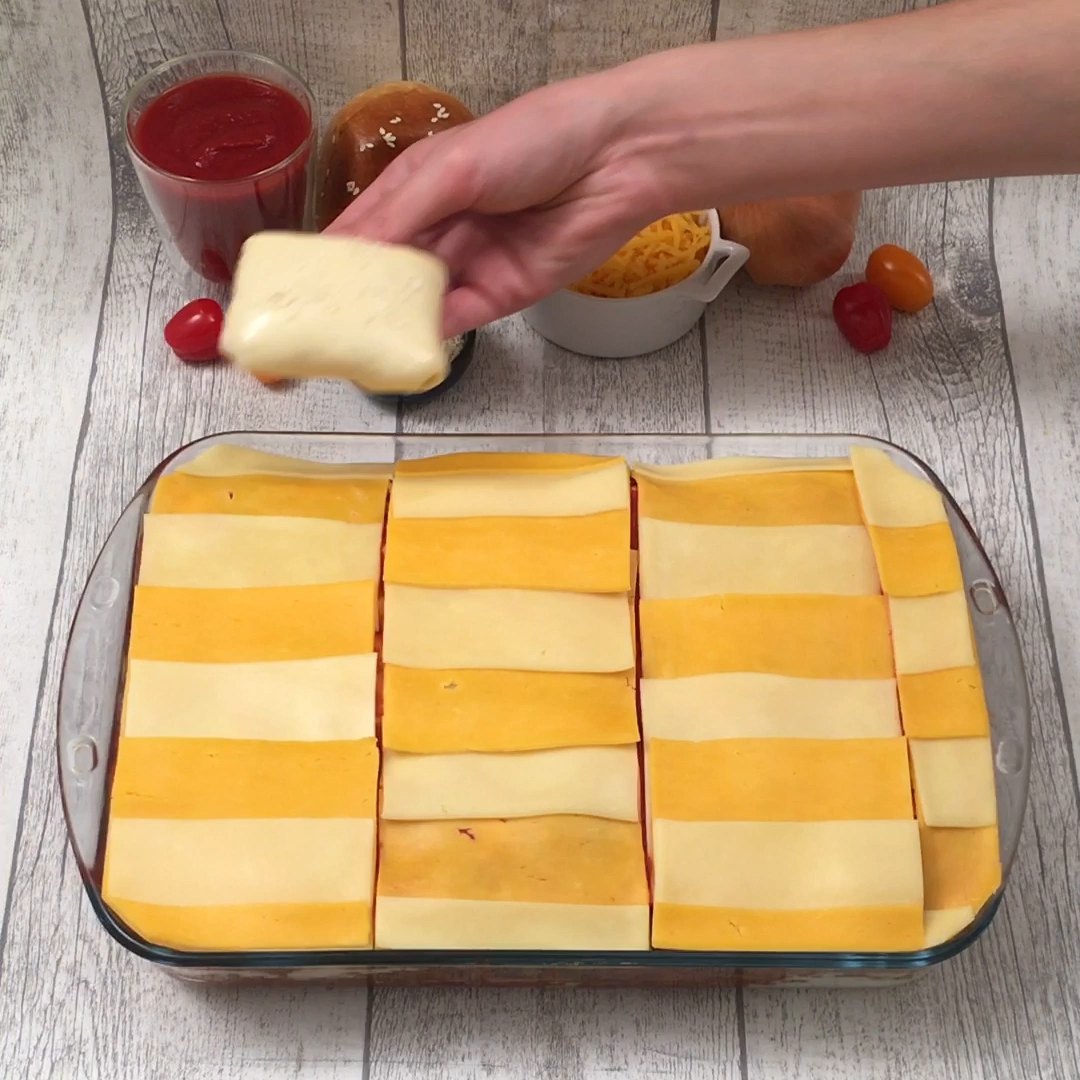 Layered Burger Pasta
A legendary mash-up. 🍔🍝
Made by you!
Ingredients
1 package of no-boil lasagna noodles
1 onion, chopped
1 pound ground beef
5 cups tomato sauce
1 teaspoon oregano
3 cups bechamel sauce
1 package of bacon, chopped
1 package of sliced cheddar
1 package of sliced gouda
2 1/2 cups grated cheddar cheese
3 pizza doughs
1 egg yolk, beaten
Sesame seeds, for garnish
Salt & pepper, to taste
1 pastry brush
Tools
1 glass baking dish
Parchment paper
1. Line the bottom of the glass baking dish with overlapping lasagna noodles. Set aside. In a pan, cook the ground beef and onions until browned. Add 2 cups of tomato sauce, oregano, salt and pepper. Cook until the sauce is slightly reduced.
2. Cover the lasagna noodles with the meat mixture, followed by the bechamel sauce. Sprinkle the bechamel with some grilled bacon and cover this with another layer of lasagna noodles. Repeat these steps once more. Add plain tomato sauce to the top layer of lasagna noodles and top the sauce with alternating slices of cheddar and gouda, covering completely.
3. Sprinkle 4 piles of grated cheddar cheese onto the pizza dough and cut the dough into 4 equal parts. Roll the edges of the dough towards the center to form an envelope. Repeat these steps 2 more times. Gently brush the tops of the pizza dough with egg yolk and sprinkle with sesame seeds. Place the dough pieces around the edge of the lasagna pan and bake for 20 minutes at 350 °F, or until cheese is bubbly and golden. Tear off the baked dough before slicing. Enjoy.
Similar recipes from Chefclub