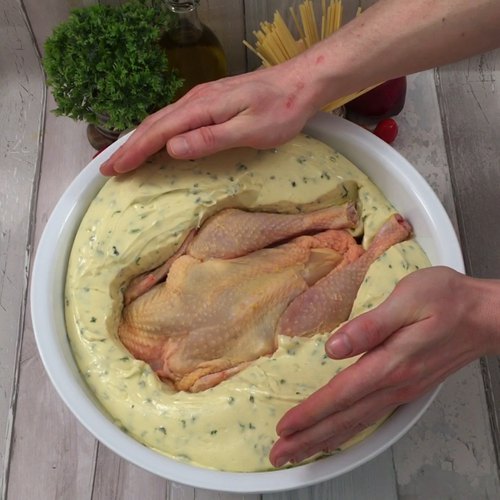 Whole Roast Chicken Fettuccine Alfredo
You've never seen a sheet pan dinner like this! 🤯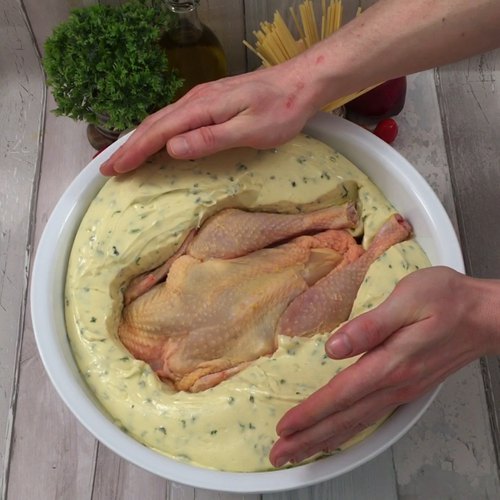 ---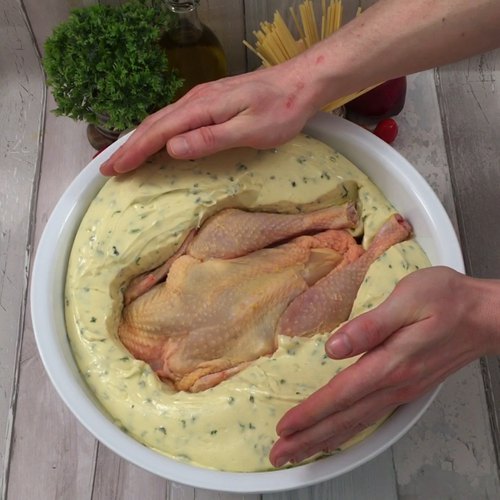 ---
Ingredients for 8 people
1 whole chicken
4 cups of butter, room temp
2 cups of parmesan cheese
1 cup of sour cream
parsley & garlic
1 lb of linguine
water
garlic
7 oz of asiago cheese
parsley
---
Step 1/3
Mix butter, parmesan cheese, sour cream, pasley and garlic together in a bowl. You can cut this part of recipe in half, but you won't have enough to submerge the chicken - that's ok though, you can just cover the chicken skin without submerging it. Set mix aside.
Step 2/3
In your high-sided sheet pan, spread out the linguine and cover with just enough water to wet the noodles. Separate the chicken skin from the meat and stuff garlic cloves under the skin. Place a block of asiago cheese in the chicken cavity then submerge the whole bird in the butter mix. You'll use about half. Save the other half for another chicken dinner - you can freeze it for later!
Step 3/3
Bake at 350 °F for an hour an fifteen minutes or until the thickest part of the chicken is 165 °F. Once cooked, remove from oven cut chicken open - carve on a cutting board. Mix the sauce with the pasta, sprinkle with additional parsley then serve pasta with chicken.