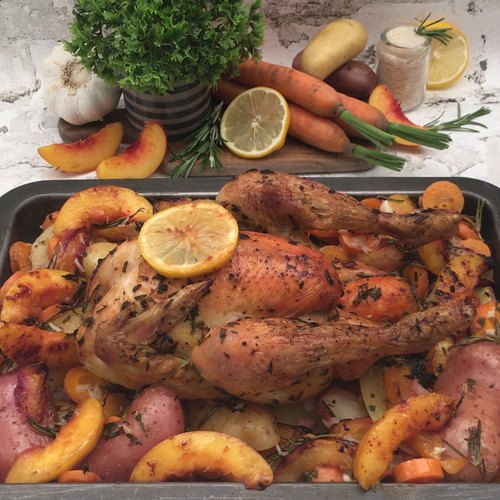 The World's Juiciest Chicken
I can't believe it's butter! 🍴🙋‍♀️❤️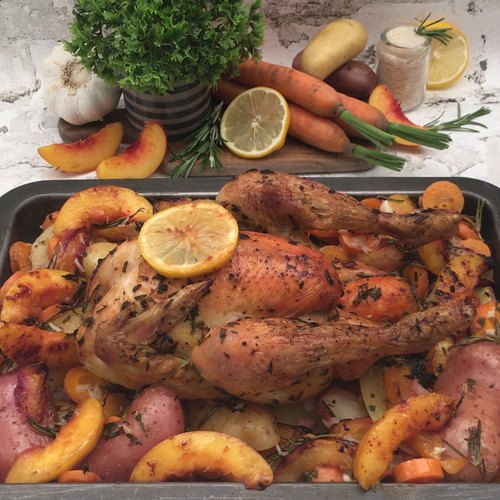 ---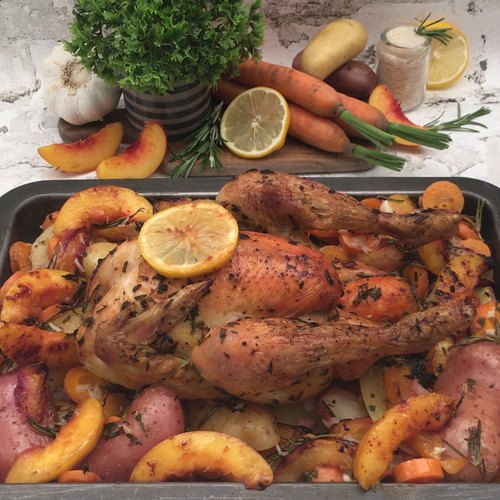 ---
Total time: 1 hour 30 minutes
Ingredients for 6 people
5 lbs of butter
garlic, minced
2 lemons
1 bottle of white wine
1 whole chicken
3 lbs of potatoes
3 carrots
1 cup of rice
4 yellow peaches
rosemary
parsley
salt & pepper
1 baking sheet
---
Step 1/3
Mix butter with garlic, rosemary, parsley, wine, and the juice of one lemon until it forms a smooth paste. Add salt and pepper to taste.
Step 2/3
Stuff your chicken with potatoes, carrots, rosemary, and 1 lemon cut in quarters. Cover the chicken in the butter paste and chill for 30 minutes up to 24 hours.
Step 3/3
In a high-sided baking dish, pour in rice and place sliced carrots and potatoes on top. Place chicken on the bed on vegetables. Place the peaches around the edge of the chicken. Garnish everything with salt, paper, and rosemary. Place slices of lemon on top of the chicken and bake for 1 hour at 350 °F (or until the internal temp of your bird has reached 165 °F). When it comes out of the over, let cool then serve and enjoy!