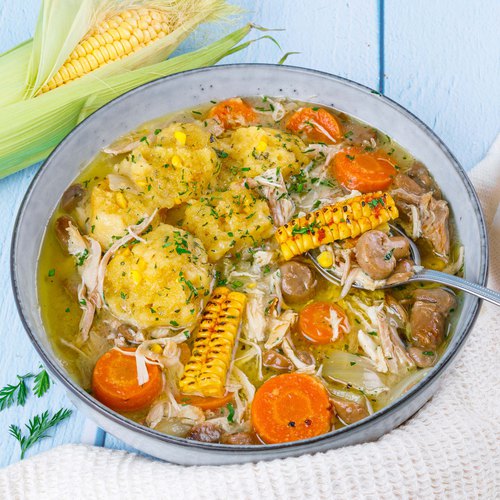 Chicken & Cornbread Dumplings
Chicken & Cornbread Dumplings! Served in a delicious broth 😁🐔🥣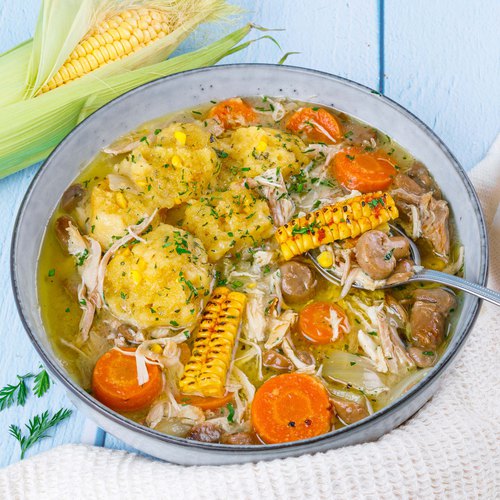 ---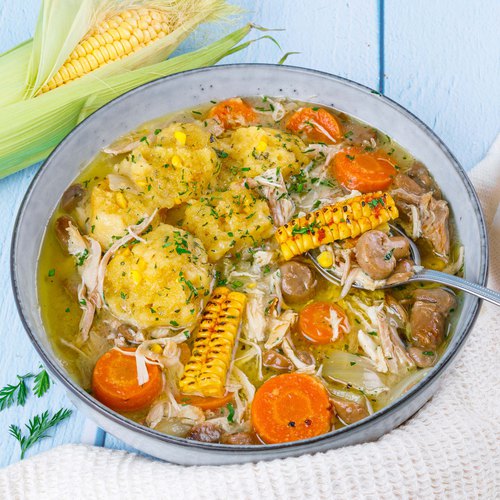 ---
Total time: 1 hour 30 minutes
Cook time: 1 hour 30 minutes
Ingredients for 6 people
3 lbs of whole chicken
2 tbsp of butter
1 oz of ranch seasoning
1/4 cup of parsley
1 tsp of thyme
1 tbsp of olive oil
1/2 lb of carrots
4 celery
Onions
4 cups of chicken broth
1 can of cream of mushroom soup
1 1/2 cups of flour
1/2 cup of cornmeal
2 tsp of baking powder
1/2 tsp of salt
3 tbsp of melted butter
2 corn on the cobs
2 pinches of paprika
Ranch dressing
---
Tools
Bundt pan
Baster
---
Step 1/5
Preheat the oven to 425°F. Pull the skin of the chicken towards you at the top of the chicken. Place 2 tablespoons of butter down into the chicken between the skin and the meat. Pour the ranch seasoning in on top of the butter, then add all but 1 teaspoon of the chopped parsley and the thyme into the chicken. Set aside. Place the bundt pan on a baking sheet, add the sliced carrots, celery, and onions. Combine the chicken broth and the cream of mushroom soup together with a whisk, then pour the mixture over the vegetables. Add the chicken to the center of the bundt pan (legs downwards) then rub the skin evenly with 1 tablespoon of olive oil. Place the bundt pan onto the baking sheet. Bake for an hour to an hour and a half (basting every 20 minutes to keep the chicken moist) until the internal temperature reaches 165°F.
Step 2/5
Whisk together the flour, cornmeal, baking powder, and 1/2 teaspoon of salt. Make a well in center of the mixture. Add milk, butter, 1/2 teaspoon of thyme, and 1 teaspoon parsley to dry ingredients, gently stirring just until moistened. Remove the corn kernels from one ear of corn, then fold them into the batter until just combined. Add the mixture to a piping bag to easily form dumplings. Set aside.
Step 3/5
Lightly steam or boil the remaining 2 ears of corn. Let them cool enough to handle, then remove the kernels in strips from the cob. Add the corn strips to a baking sheet. Set aside.
Step 4/5
When the chicken has about 25 minutes left to cook, carefully remove the bundt pan on the baking sheet from the oven and pipe large dumplings into the broth from the pipping bag. Drop them gently into the broth. Return the pan to the oven, add the corn strips in the oven on a separate baking sheet, and bake for another 2 minutes. Once the chicken is fully cooked and the dumplings have doubled in size, remove the pan from the oven and let the chicken cool.Once the corn strips are slightly charred, remove them from the oven and sprinkle them with paprika and salt to taste. Shred chicken into the bundt pan or another preferred serving dish.
Step 5/5
Add 2-3 dumplings to each bowl then add some broth with chicken and vegetables. Add 4-5 roasted corn strips to each bowl. Ranch dressing can be served for the dumplings if desired. Enjoy!