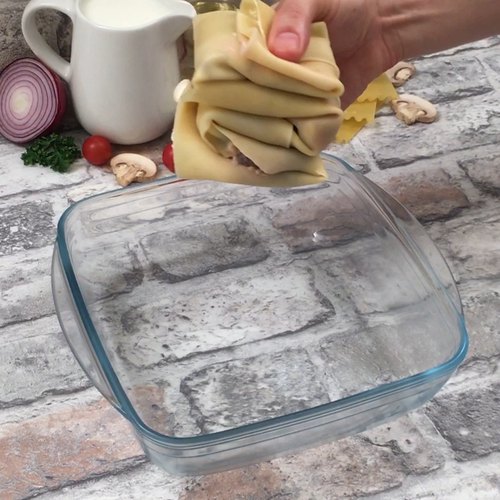 Beef Stroganoff Lasagna
Around and around it goes! 🌀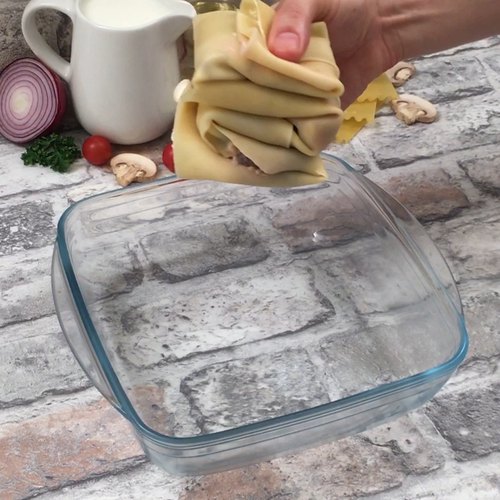 ---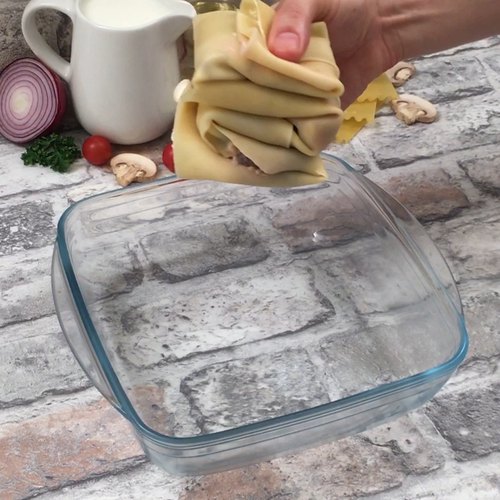 ---
Ingredients for 4 people
24 sheets of lasagne noodles, cooked
3 cups of sour cream
3 sirloin steaks
1/4 cup of butter
1 onion, diced
2 1/4 cups of mushrroms, chopped
1 clove garlic, minced
parsley, chopped
1/2 cup of white wine
2 cups of beef stock
1 tbsp of mustard
1/4 cup of flour
mozzarella cheese, grated
salt & pepper
---
Tools
Square baking dish
---
Step 1/3
Lay out 6 sheets of lasagna noddles in a long rectangle, overlapping them by a half inch, and spread a 1/2 cup of sour cream down the center. Repeat 3 times to make 4 lasagna rectangles.
Step 2/3
In a pan over high heat, sear the steaks on both sides until golden, remove from the pan, slice, and set aside. To the pan, add butter, onion, mushrooms, garlic, parsley, salt, and pepper, cook until caramelized, remove from the pan, and set aside. Deglaze the pan with white wine and beef stock, add remaining sour cream, mustard, and flour, whisk to combine, and simmer until slightly thickened.
Step 3/3
To each lasagna rectangle add 1/4 of the mushrooms and onions and steak, drizzle with some of the sauce and sprinkle some mozzarella. Fold over the sides of the lasagna noodles to enclose the filling and fold each these lasagna packets back and forth like an accordion. Arrange the 4 lasagna accordion on their end in the baking dish, pour remaining sauce over the noodles, sprinkle with mozzarella, and bake for 15 min at 350 °F. When the lasagna come out of the oven, top with chopped parsley and sliced mushrooms. Enjoy!