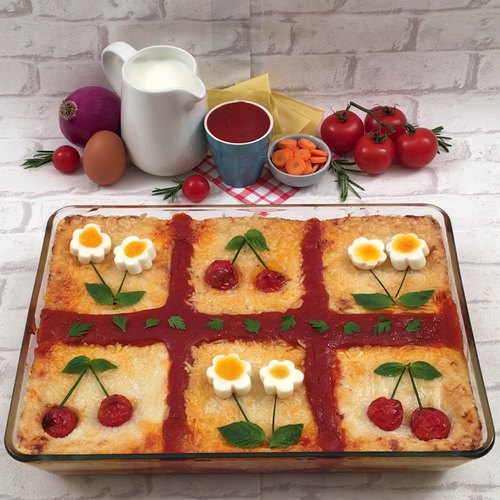 Picnic Lasagna
*Almost* too cute to eat... almost! 😋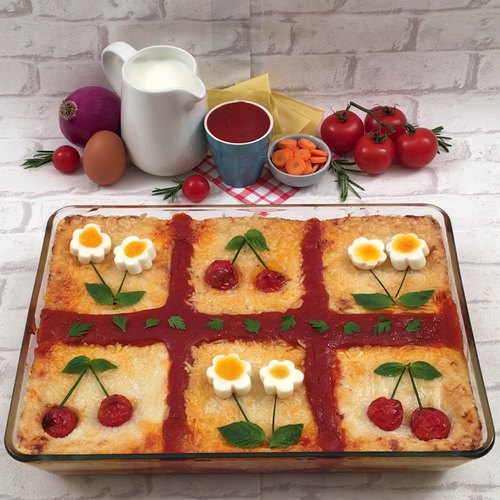 ---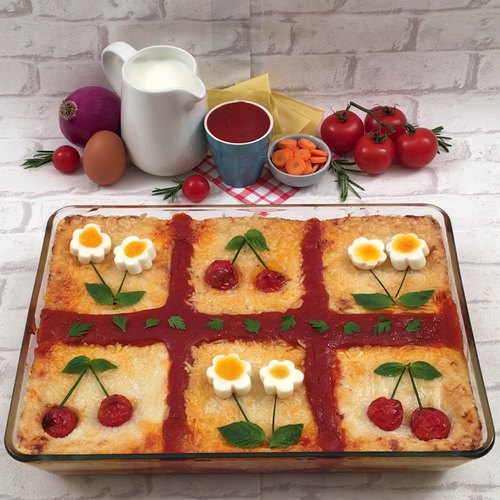 ---
Ingredients for -9 people
1 lamb shoulder
olive oil
3 carrots
1 red onion
4 garlic cloves
2 hard boiled eggs
24 sheets of lasagna
4 cups of bechamel white sauce
5 cups of mozzarella cheese
4 cups of tomato sauce
6 cherry tomatoes
cumin
chili powder
herbes de provence
rosemary
bay leaves
chives
basil
parsley
salt & pepper
3 rubber bands
---
Tools
Baking sheets
Foil
Plastic wrap
Skewers
---
Step 1/5
Place the shoulder of lamb in an oven-safe dish and brush it with olive oil, cumin, chili pepper and Herbes de Provence. Add diced carrots, red onion rings, chopped garlic cloves, salt, pepper, rosemary and bay leaves. Cover the dish with foil and place in the oven for 2 hours at 375 °F.
Step 2/5
Spread a sheet of cling film on the table and place the skewers parallel to each other at a distance of 1 inch. Place the eggs top-to-bottom together lengthwise in front of the skewers and roll them in the cling film, surrounding them with the skewers. Hold the roll very tightly with the rubber bands and place 1 hour in a cool place.
Step 3/5
Remove the lamb from the oven and shred it. Precook the lasagna for 3 minutes in boiling salted water, then drain. Spread 1 tablespoon of bechamel in the middle of 1 of the lasagna sheets and place another sheet on top to form a cross. Spread 1 new tablespoon of bechamel in the middle of the 2nd leaf, add 1 tablespoon of shredded lamb, sprinkle with grated mozzarella and fold the leaves over the mixture to form a square. Repeat with all the lasagna leaves.
Step 4/5
Place 6 squares in the 2nd baking dish, sprinkle with grated mozzarella and place the remaining 6 squares on top. Spread each square with bechamel sauce and sprinkle with grated mozzarella cheese. Pour the tomato sauce into the dish between the squares and place 2 cherry tomatoes on 3 of the squares. Place in the oven for 30 minutes at 350 °F.
Step 5/5
When you get out of the refrigerator, cut the rubber bands to unmould the hard-boiled eggs. Cut slices to form 6 egg flowers. Remove from the oven and place 2 egg flowers on the squares that do not have cherry tomatoes. Add sprigs of chives to make the stems of the flowers and cherries and basil leaves for the leaves. Decorate with flat parsley leaves and then enjoy.