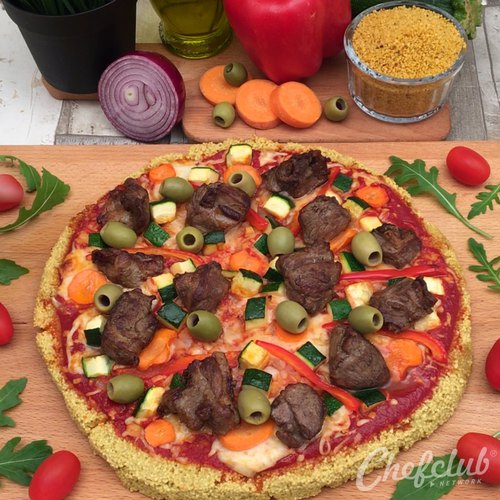 Moroccan Pizza
Made with a special crust ;)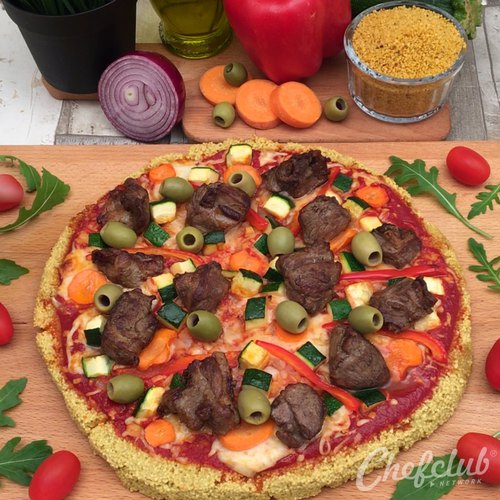 ---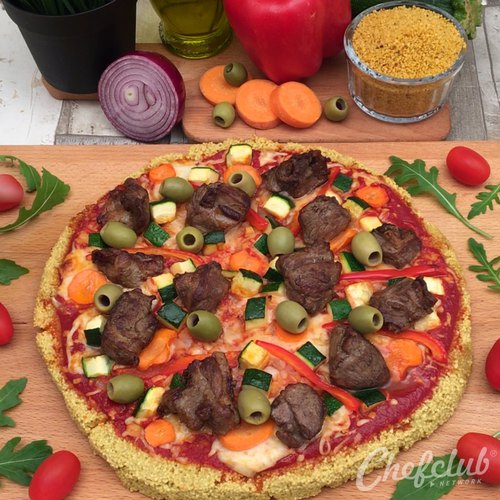 ---
Ingredients for 4 people
1 lb of lamb shoulder
1 1/2 tbsp of butter
3 1/2 tbsp of flour
1 1/2 cups of water
3/4 cup of semolina flour
1/2 cup of tomato sauce
1/2 tsp of harissa
1/2 onion
1/2 zucchini
1/2 carrot
1/2 pepper
10 green olives, pitted
mozzarella, grated
olive oil
salt & pepper
---
Tools
Large pot
Baking tray
Parchment paper
---
Step 1/4
Cut the lamb into cubes and fry them in a drizzle of olive oil with salt and pepper.
Step 2/4
Melt the butter in the pot, then add the flour, and mix well. Pour in the water and boil for 1 to 2 minutes before incorporating the semolina, stir well so that it absorbs all the liquid and then leave to stand until it has expanded.
Step 3/4
Arrange the semolina in a disc on the parchment paper lined baking tray and bake for 15 minutes at 400 °F. Mix the tomato sauce and harissa and spread it on the semolina crust.
Step 4/4
Sprinkle with grated mozzarella cheese, and top with chopped onion, diced zucchini, sliced carrot, and pepper strips. Place the cooked lamb on top and bake for 10 minutes at 400 °F. Remove from the oven, arrange the olives on the pizza, and enjoy!