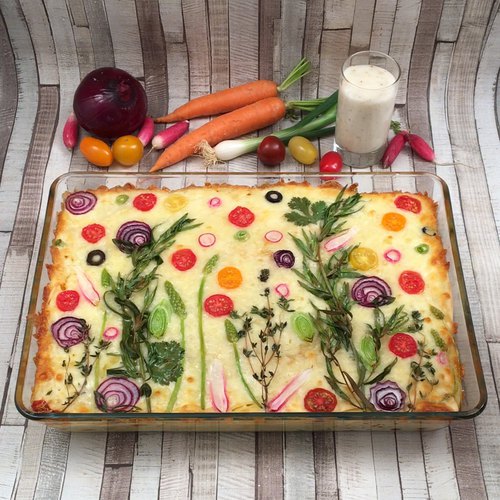 Lasagna Meadow
Lasagna Meadow! With crepe "noodles" 🌿🌺🍃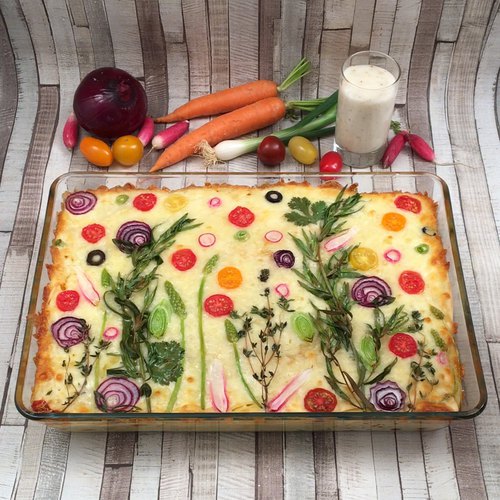 ---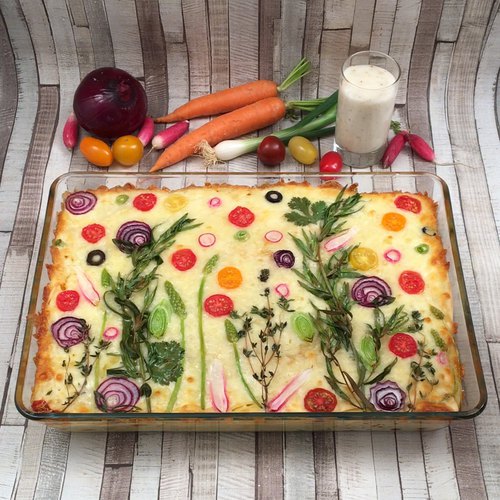 ---
Ingredients for 8 people
2 cups of flour
4 eggs
1 1/4 cups of milk
1 onion
2 carrots
1 lb of ground beef
1 cup of tomato sauce
1 cup of bechamel white sauce
1 1/2 cups of shredded mozzarella
sage
3 branches of thyme
4 baby asparagus
1 red onion
1 radish
2 cherry tomatoes
2 black olives
parsley
salt & pepper
1 rectangular baking dish
---
Step 1/3
Mix the flour, eggs, salt and pepper and then add the milk, stirring to make a crepe batter. Bake 11 crepes and place 5 in the bottom of the pan to line the sides.
Step 2/3
Sauté the onion, carrots, ground beef, salt and pepper and pour on the tomato sauce. Pour half of the bolognese over the pancakes and add half of the béchamel sauce. Sprinkle with 1/2 cup of mozzarella. Place 2 crepes on top, then the remaining bolognese, béchamel and 1/2 cup of mozzarella. Place 2 crepes on top, fold over the crepes that protrude over the top and close with 2 last crepes. Sprinkle with the remaining mozzarella.
Step 3/3
Arrange the sage, thyme and wild asparagus branches on the dish, with the tails against one of the lengths of the dish to create a landscape. Decorate the landscape with slices of red onion, slices of radish, slices of cherry tomatoes, slices of black olives, parsley leaves and thin slices of spring onion. Place in the oven for 15 minutes at 375 °F. Remove from the oven, cut into slices and enjoy.