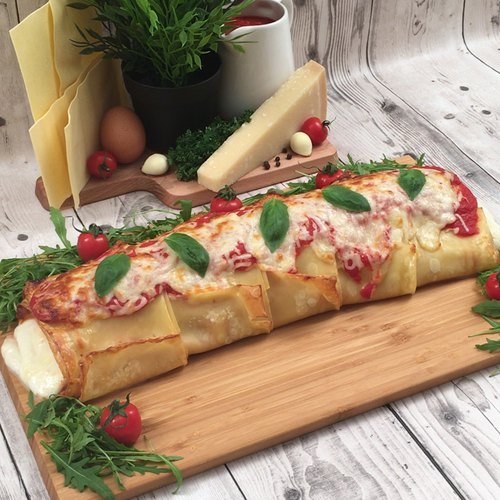 Mega Lasagna Roll
Serve yourself a slice! 😍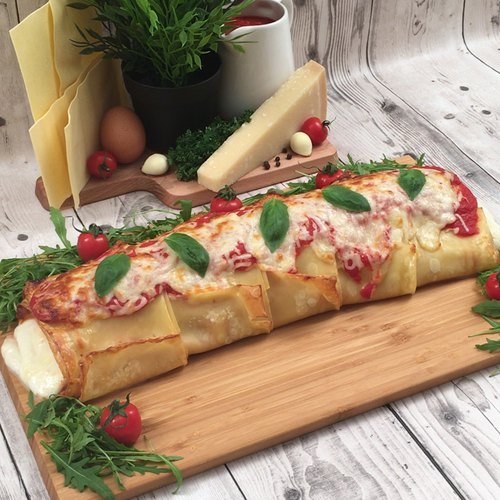 ---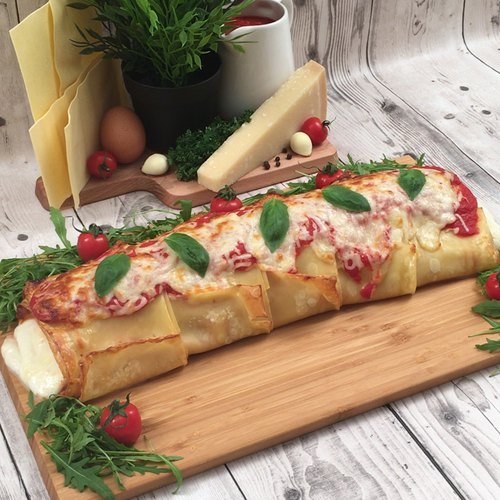 ---
Ingredients for 5 people
1 lb of ground beef
1 cup of grated parmesan
1 tablespoon chopped parsley
1 egg
salt and pepper, to taste
25 lasagna noodles, cooked
1 cup of tomato sauce
2 cups of grated mozzarella
2 balls mozzarella
basil, for garnish
---
Tools
Parchment paper
---
Step 1/3
In a bowl, combine the ground beef, cheese, parsley, egg, salt and pepper. On a baking tray lined with parchment paper, form an even log with the meat in the center of the baking tray. Bake for 20 minutes at 350 °F.
Step 2/3
Line another baking tray with parchment paper and cover the surface with the lasagna noodles overlapping. Cover the noodles with a thin layer of tomato sauce, followed by a layer of shredded mozzarella cheese. Place the meat log centered just inside one end and place a ball of mozzarella on each side of the meat. Using the corners of the parchment paper, lift the noddles over the meat and roll into a log. Cover the log with more tomato sauce and shredded cheese. Bake for 10 minutes at 350 °F.
Step 3/3
Garnish with fresh basil leaves. Enjoy!