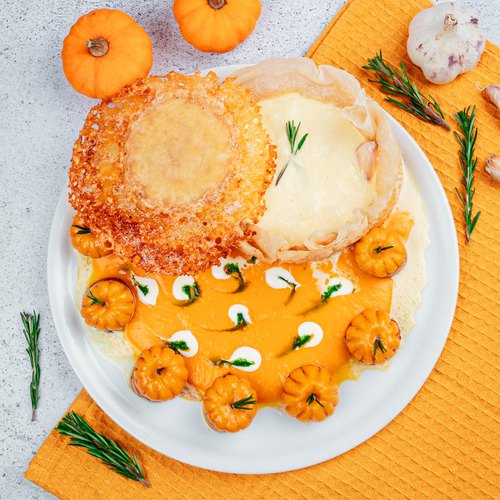 Bacon-wrapped Pumpkin Gnocchi
Bacon-wrapped Pumpkin Gnocchi! Served with a cheesy Mont d'Or sauce ❤️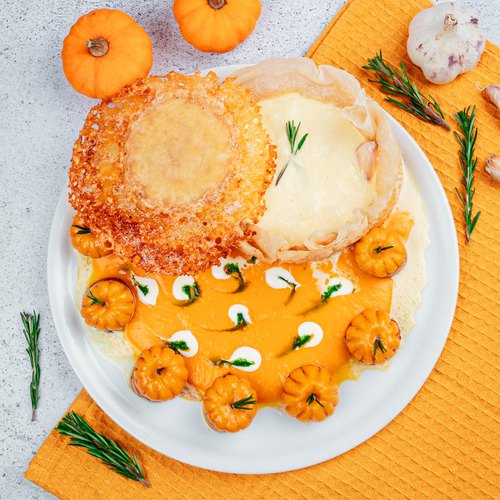 ---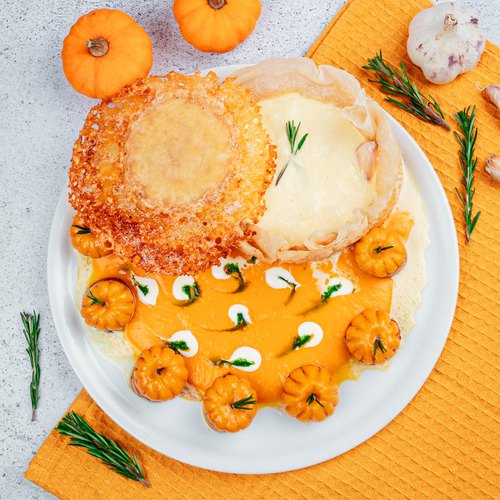 ---
Total time: 2 hours 45 minutes
Prep time: 2 hours , Cook time: 15 minutes, Rest time: 30 minutes
Ingredients for 4 people
Salt
Rosemary
2 mont d'or cheese
2 puff pastries
1 l of water
Thyme
2 tbsp of white wine
3 tbsp of pumpkin puree
1 l of frying oil
Garlic
2 cups of flour
---
Step 1/4
In a bowl mix the pumpkin puree, salt and flour to create a smooth gnocchi dough. Allow to rest 30 minutes.
Step 2/4
Press the wine bottle mouth inside the Mont d'Or cheese. Place the puff pastries around the base of the cheese and fry in hot oil. Remove the cheese and allow the puff pastries to become golden brown. Cut the top part off of the cheese. Garnish with rosemary and garlic. Bake until melted and set aside. Bake the top and bottom piece of cheese for 15 minutes at 350°F to create chips.
Step 3/4
Shape the gnocchi dough into balls. Press into the bottom a lemon press to shape. Insert a piece of cheese and close the dough. Cook in boiling water for 5-6 minutes. Set aside.
Step 4/4
Melt the rest of the cheese with the white wine, garlic, herbs and pour into the brick bowl. Serve the gnocchi with the cheese and enjoy!