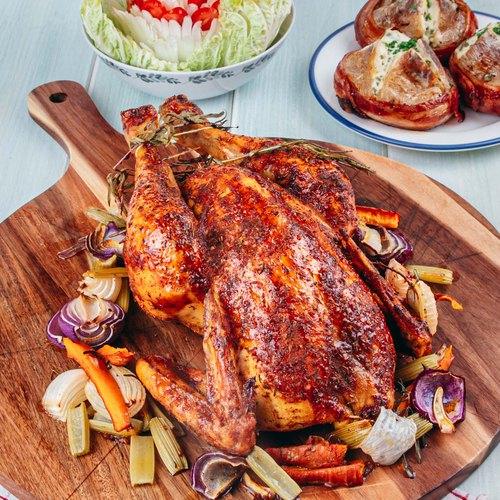 Sunday Chicken Dinner
Sunday Chicken Dinner! Comfort food for the whole family 😋🍗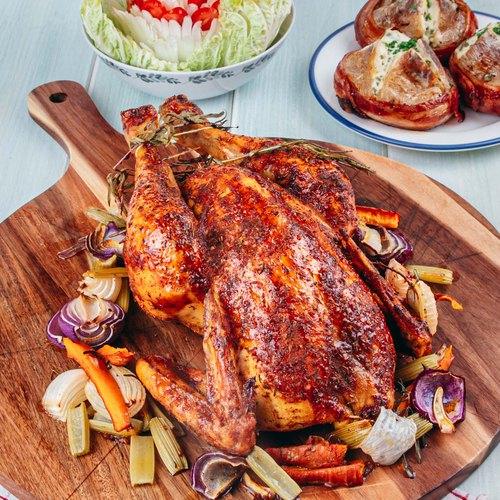 ---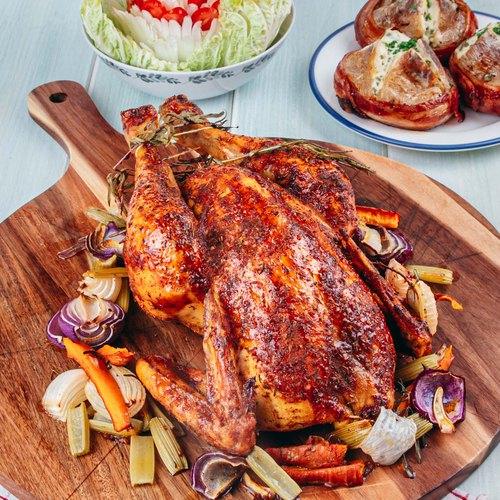 ---
Total time: 2 hours
Prep time: 30 minutes, Cook time: 1 hour 10 minutes, Rest time: 20 minutes
Ingredients for 4 people
1 whole chicken
3 tbsp of chefclub roast chicken seasoning
1 1/4 cups of honey
1 1/4 cups of bbq sauce
2 sprigs of tarragon
1 onion
1 red onion
1 carrot
1 celery
4 potatoes
Salad
10 cherry tomatoes
8 slices of smoked bacon
1 1/4 cups of heavy cream
Chives
Salt & pepper
Olive oil
---
Tools
Apple corer
---
Step 1/3
Before you start: fill an ice cube tray with water and place it in the freezer. Cover the chicken with Chefclub Chicken Seasoning. Place it in a dish and pour the honey and bbq sauce inside the chicken. Add a sprig of rosemary inside and prick the second in the skin of the chicken to close it. Tie the legs with a stem of tarragon. Peel and cut the onions, carrot and celery, place them on a baking sheet and place the chicken in the center. Bake for 1 hour at 340°F.
Step 2/3
Cook the potatoes in a pot of boiling water, drain and let cool. Slit the top of each potato, press the edges to open them and wrap the sides of each potato with a slice of smoked bacon. Cut the chives, add them to the cream and garnish the potatoes with cream. Place the potatoes in a buttered frying pan, season with pepper and cook.
Step 3/3
Wash and sculpt the romaine salad using an apple corer and remove the top of the leaves. Repeat the process for the whole salad. Fill a bowl with water and ice cubes and immerse the salad in ice water for 20 minutes. Place the lettuce leaves on a plate and the cold lettuce in the centre. Cut the cherry tomatoes into slices, add them to the salad. Arrange the chicken and the potatoes in a dish. Pour a drizzle of olive oil over the salad, season with pepper and salt. Enjoy!