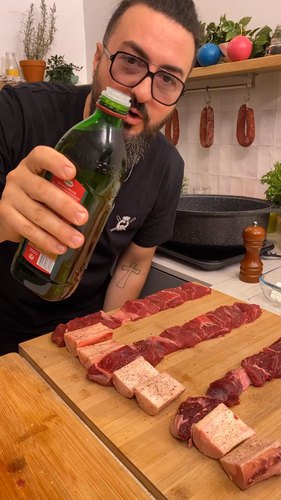 Italian Osso Buco
Italian Osso Buco! With homemade baked chips 😉🦴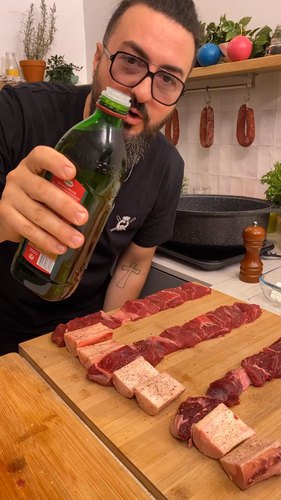 ---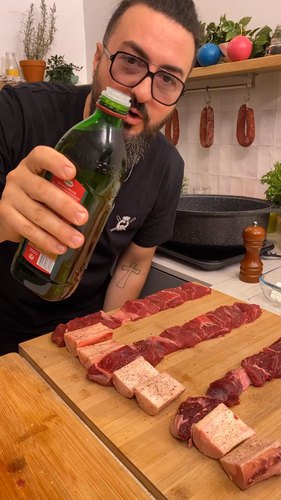 ---
Total time: 2 hours 45 minutes
Prep time: 15 minutes, Cook time: 2 hours 30 minutes
Ingredients for 3 people
1 beef shank
3 marrow bones
1/2 cup of flour
1 celery
1 carrot
Onions
0.4 cup of olive oil
Potatoes
3/4 cup of rice
Bouillon cube
Saffron
4 tbsp of butter
2 tbsp of parmesan
Garlic
Lemon
Chives
---
Tools
Kitchen twine
---
Step 1/4
Add the half-cut marrow bones to the beef shank. Tie together with kitchen twine. Coat with flour and place in a hot pan to sear each side. Place in a baking dish with 1 liter of water, the bouillon cube, carrot, celery and onion. Bake for 1 hour and a half.
Step 2/4
Prepare a risotto with onion, saffron, olive oil, rice and broth. Add 2 tbsp of butter and parmesan on top once cooked.
Step 3/4
Slice the potatoes thinly. Insert rosemary between 2 slices and close. Bake 15 minutes at 350°F.
Step 4/4
Remove the bone marrow and mix with butter, garlic, chives and butter. Serve the beef shank on top of the risotto with the potato chips and sauce. Enjoy!