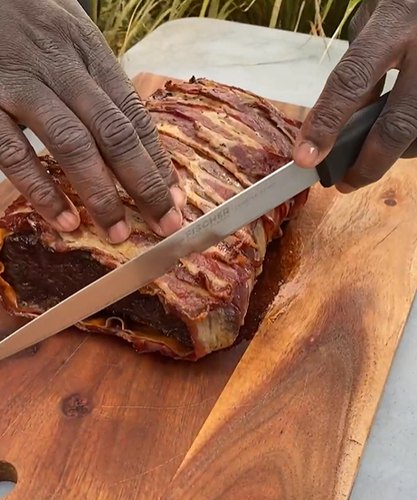 Grilled Beef Bourguignon Tacos
Grilled Beef Bourguignon Tacos! A new take on a classic recipe 🤩🥩🌮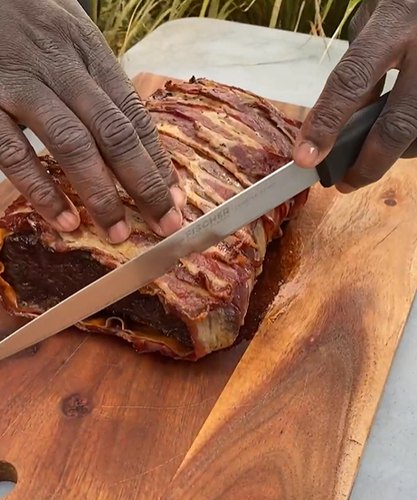 ---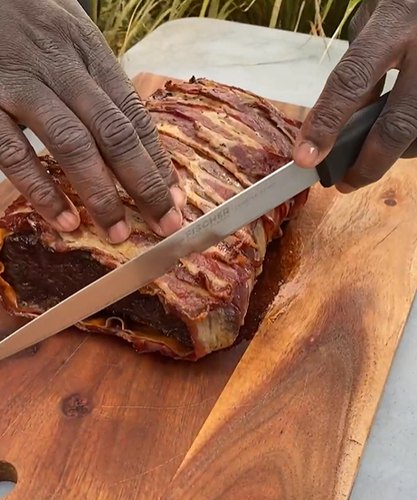 ---
Total time: 30 minutes
Cook time: 30 minutes
Ingredients for 5 people
1 beef
5 tbsp of red wine
2.2 lbs of mashed potatoes
4 egg
1 1/2 cups of flour
Spices
4 carrots
10 pearl onions
2 bay leaves
Thyme
21 slices of bacon
4 mushrooms
---
Tools
Cling wrap
Kitchen twine
Taco holding stand
---
Step 1/4
Cut 2 crosses in the steak and place in a pot. Add the red wine, chopped carrots, bay leaves and pearl onions. Close the lid and allow to marinate. Use kitchen twine to secure everything. Add thyme and bay leaves. Allow to smoke on the grill until done.
Step 2/4
Place the bacon slices on a piece of cling wrap. Add stripes of carrot and slices of mushroom on top. Add the steak on top and wrap the bacon around everything.
Step 3/4
Make 5 balls of mashes potatoes on top of cling wrap. Place another piece of cling wrap on top. Smash the potatoes until flat. Place some olive oil on the grill and cook each one. Place in taco rack to shape.
Step 4/4
Slice the meat and place in tacos. Add some sauce and enjoy!