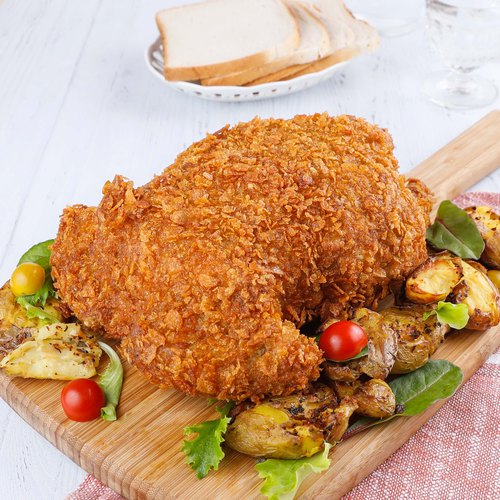 Crispy Chicken Cordon Bleu
Crispy Chicken Cordon Bleu! Crispy and tender all at the same time🍗😋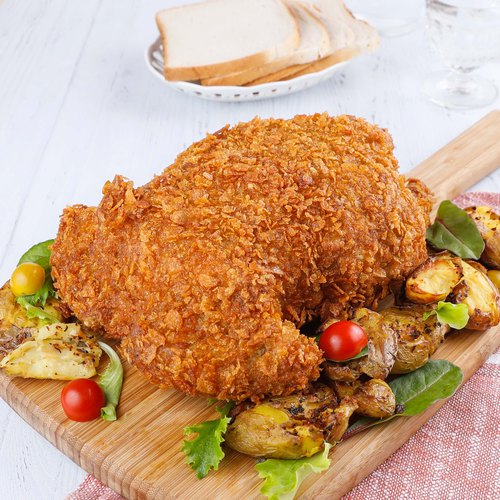 ---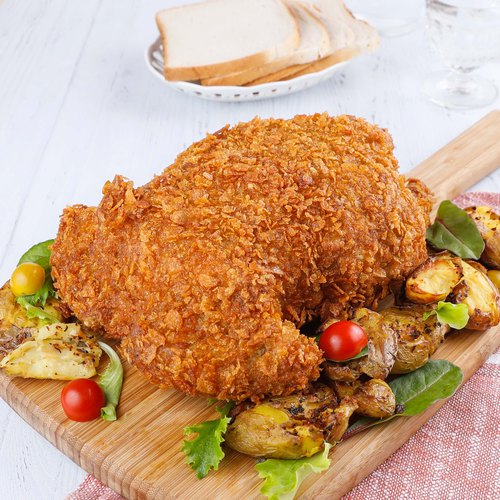 ---
Total time: 1 hour 30 minutes
Prep time: 30 minutes, Cook time: 1 hour
Ingredients for 4 people
1 whole chicken
Oil
Chefclub roast chicken seasoning
3 1/2 oz of emmental cheese
3 slices of ham
1 3/5 cups of flour
6 egg
1 3/5 cups of breadcrumbs
15 potatoes
Garlic
Chefclub vegetable seasoning
Olive oil
Salad
Salt & pepper
---
Tools
Skewers
Aluminum foil
---
Step 1/4
Dip the chicken in a pan of hot oil for two minutes, place it on a cutting board and top with the Chefclub chicken seasoning. Wrap the emmental in the 3 slices of ham, place everything inside the chicken, fold the sides and secure with skewers to close.
Step 2/4
Dip the chicken in flour, beaten eggs and breadcrumbs. Fry in hot oil for a few minutes. Drain the chicken, place it on a baking sheet lined with parchment paper and bake for 10 minutes at 350°F.
Step 3/4
Cook the potatoes in a pot of boiling water, drain and place in a container. Cut a the garlic in half, wrap in aluminum foil and bake for 35 minutes at 350°F.
Step 4/4
Crush the garlic cloves and place in the potatoes. Place the potatoes in a baking dish, mash them with a glass, add a drizzle of olive oil and sprinkle with the Chefclub vegetable seasoning. Bake for 10 minutes at 350°F. Place the potatoes on a plate, arrange the salad and chicken in the center. Serve and enjoy!