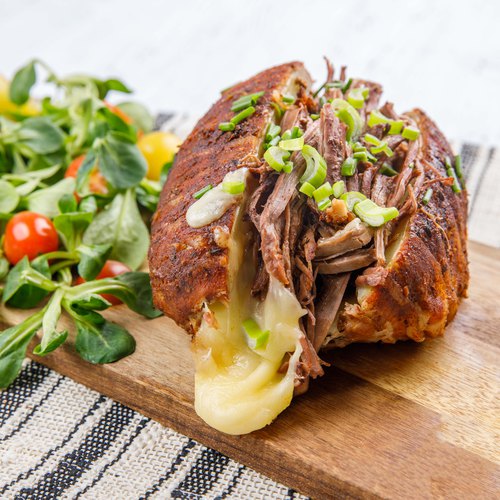 Raclette Stuffed Potatoes
Raclette Stuffed Potatoes! You will want to stuff your face with this recipe 😁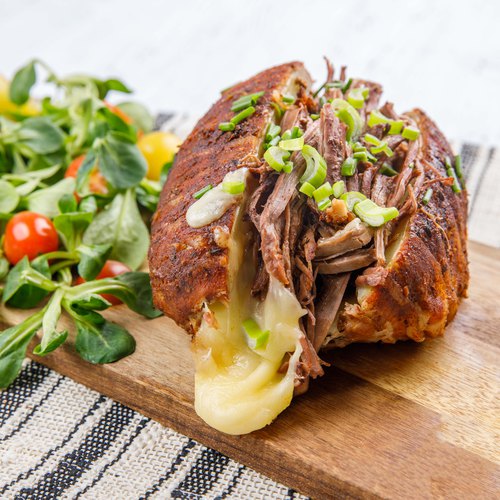 ---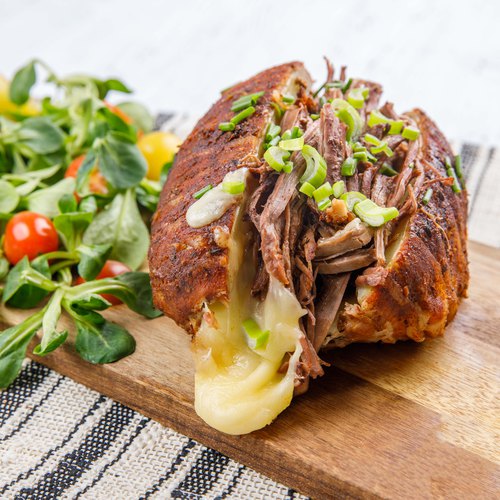 ---
Total time: 9 hours 25 minutes
Prep time: 45 minutes, Cook time: 8 hours 40 minutes
Ingredients for 3 people
4.4 lbs of beef
1 clove garlic
2 spring onion
1/2 red onion
2 tbsp of bbq sauce
2 tbsp of soy sauce
7 tbsp of red wine
1/4 cup of butter
3 tbsp of chefclub bbq spice mix
20 slices of bacon
9 oz of raclette cheese
Dill
Parsley
Chives
Cherry tomatoes
3 potatoes
Salad
---
Tools
Cling wrap
Aluminum foil
---
Step 1/3
Chop chives, dill, rosemary, parsley, red onion, spring onions and add to bbq sauce, soy sauce and red wine to make a marinade. Place the piece of beef on a baking sheet covered with aluminum foil, pour the marinade over it before covering the whole thing with aluminum foil. Bake for 8 hours at 270°F.
Step 2/3
Cook the potatoes in a pan of boiling water, drain them and poke a hole through them using the handle of a wooden spoon. Cut the butter into sticks and insert them into the potatoes. Divide the slices of bacon into three and layer them on cling wrap, place a potato on top and wrap the potato. Roll everything in Chefclub bbq spices, wrap in aluminum foil and place on a baking sheet. Repeat the process to obtain 3. Bake for 30 minutes at 350°F.
Step 3/3
Remove the beef from the oven, cut the top to open the foil and shred the meat. Slice open the potatoes and add them on a plate. Melt the raclette cheese, pour it inside each potato and add the shredded beef. Cut the spring onion, place it on each potato, add the salad, the cherry tomatoes, then season with the parsley and the remaining chives. Serve and enjoy!