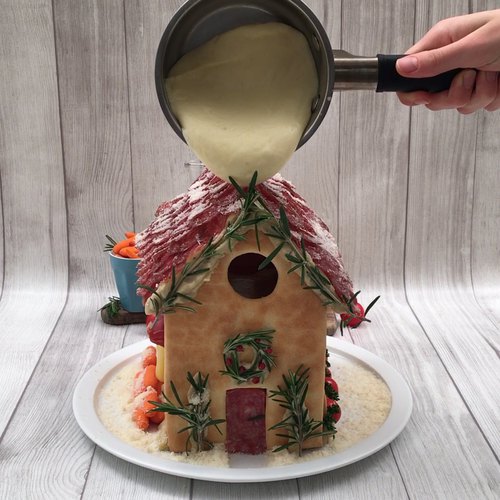 Raclette House
Home is where the cheese is! 🧀🏠✨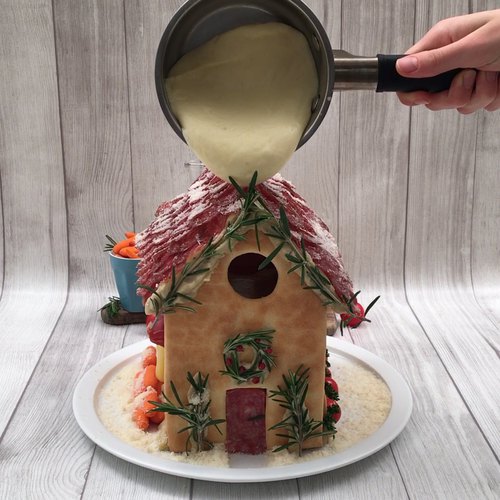 ---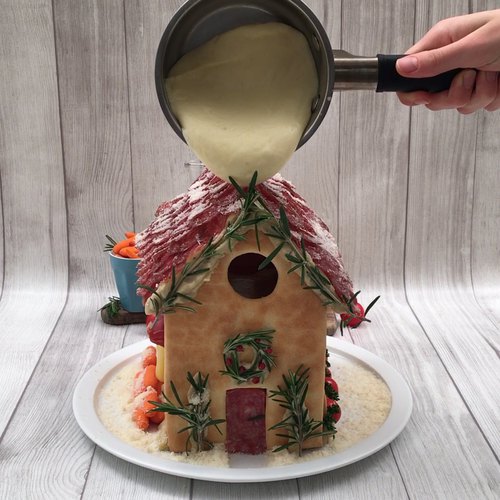 ---
Ingredients for 8 people
3 pizza doughs
12 potatoes
10 slices of coppa (italian ham)
4 slices of pepper-crusted salami
4 cups of raclette cheese
1 small cured sausage
6 cherry tomatoes
6 baby carrots
olive oil
parmesan cheese, grated
fresh rosemary
parsley
red berries
---
Tools
Parchment paper
Piping bag
---
Step 1/4
Cut 4 large rectangles of the same size from the pizza dough and 2 slightly longer ones with one end cut into a triangle. Place on a baking sheet covered with parchment paper. Cut a circle into the 2 triangular ends, a rectangle into the base facing one of the circles, and a square into the two other rectangles. Bake for 15 minutes at 350 °F.
Step 2/4
Place the potatoes on a baking tray covered with parchment paper, drizzle with olive oil, season with salt and pepper, and bake for 25 minutes at 350 °F. Remove from the oven, cut off the ends of 8 of the potatoes and mash them with the other 4 potatoes. Place the mashed potatoes in the piping bag.
Step 3/4
Arrange 4 of the cut potatoes in a square side by side and place the other 4 on top. Pipe mashed potatoes between and around them to secure the potato cube and stick 2 dough rectangles lengthwise and the 2 triangular shapes at the ends to form the walls of a house.
Step 4/4
Place the slices of coppa and salami on top of the potatoes in the house and then pour half of the melted raclette over them. Add mashed potatoes to the top edges of the house to glue the last 2 rectangles together making a roof. Pipe lines of mashed potatoes on the roof and stick thin slices of the sausage on top to cover it. Decorate the house with rosemary by attaching sprigs with mashed potatoes to make the edges of the roof and a wreath above the door. Add red berries to the wreath. Stick parsley and cherry tomatoes cut in half at the base of one wall and baby carrots at the base of the other. Stick a rectangle of sausage to the door. Sprinkle the house with grated Parmesan cheese, pour the rest of the raclette over top and enjoy!