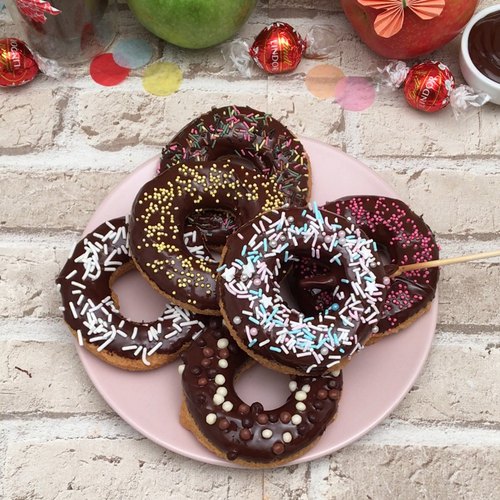 Apple Desserts
6 creative recipes, 1 delicious fruit 🍎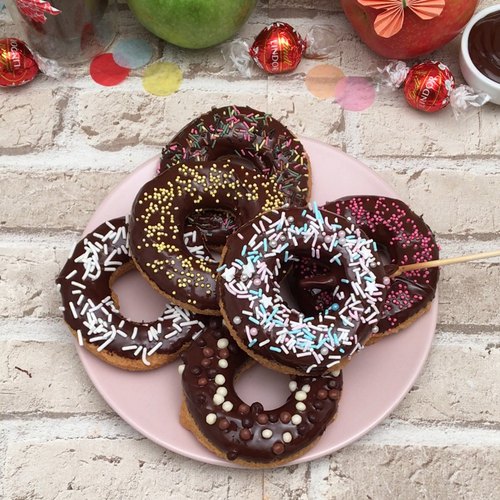 ---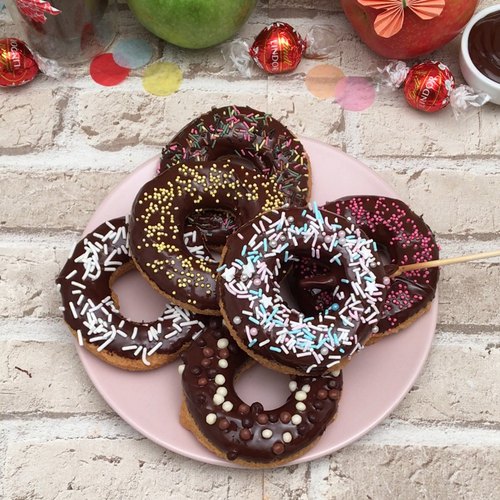 ---
Ingredients for 4 people
apple
donut batter
vegetable oil
dark chocolate
sprinkles
lindor ® truffles
lemon cake batter
butter
raw sugar
crumble dough
pizza dough
sugar
calvados
rice cake
caramel rouge
ice cube
---
Tools
Skewers
Loaf pan
---
Step 1/6
APPLE DONUTS: Cut apples into thick slices. Cut the center of each slice into rounds and prick them on skewers. Dip the slices in dough and fry them. Drain well, then dip one side of the slices in melted chocolate. Decorate with chocolate beads, sugar beads or colored vermicelli.
Step 2/6
CHOCOLATE APPLE CAKE: Peel 3 apples, cut them in half and remove the cores. Add a Lindor ® instead of the cores and close the apples. Place the apples in a terrine dish and pour lemon cake batter over them. Bake for 45 minutes at 350 °F.
Step 3/6
PERSONAL APPLE CRUMBLES: Cut off the tops of 3 apples and core them. Cut apple balls out of the removed flesh with a melon baller then caramelize them in butter and brown sugar. Put the balls back into the hollowed out apples and place them on discs of pizza dough. Trim spokes of dough around the apple and then fold the dough over the apples to cover them. Add crumble dough at the top and bake for 10 minutes at 350 °F. Remove from the oven, pour caramel on top and enjoy.
Step 4/6
APPLE FRIES: Remove the tops of the apples and hollow them out. Cut a C on the skin of the apples. Cut the rest of the apples into sticks and fry them. Dip the fries in brown sugar and place them in the hollowed out apples.
Step 5/6
APPLE CHOCOLATES Pour melted chocolate into an ice cube tray and empty it to cover only the surface of the compartments. Place in the freezer for 30 minutes. Dice apples and caramelize them in butter and sugar in a frying pan. Add a glass of calvados and flambé. Fill the compartments of the ice cube tray from the freezer with the diced apples and cover with melted chocolate. Place in the freezer for 1 hour. Unmold the ice cubes and enjoy.
Step 6/6
CANDY APPLE TREATS: Cover rice cakes with red caramel. Cut the tops off the apples and hollow them out, then cover the outside of the apples with red caramel. Place the apples on the rice cakes and fill them with chocolate ice cream. Sprinkle with sugar vermicelli and enjoy.
Similar recipes from Chefclub
-
Our other recipes