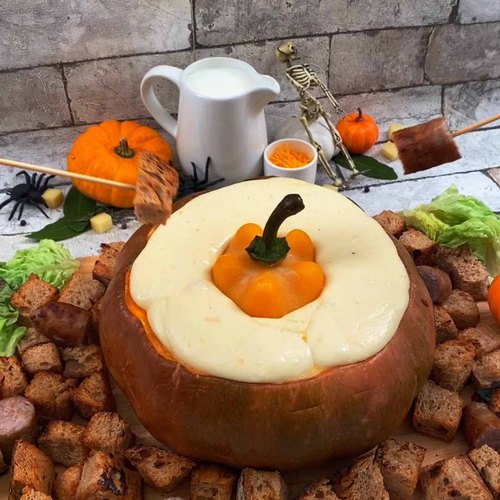 Pumpkin Fondue
It's the season!!! 🎃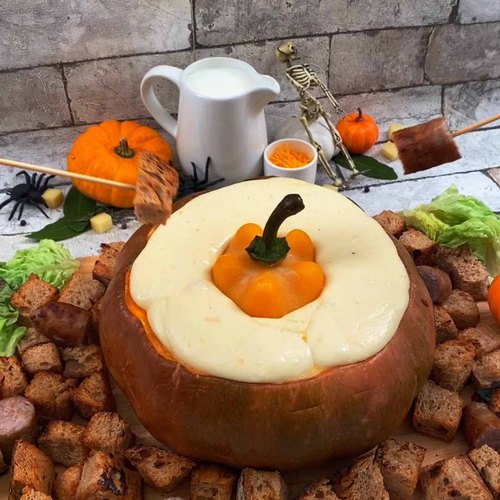 ---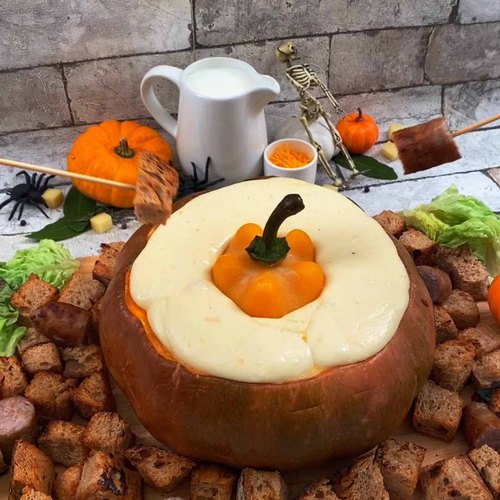 ---
Total time: 1 hour 15 minutes
Ingredients for 4 people
pumpkin
olive oil
salt & pepper
thyme
bay leaves
4 garlic cloves
aluminum foil
1/2 cup of grated cheddar cheese
1/2 grated swiss cheese
1/2 cup of shredded mozzarella cheese
1/2 cup of grated white cheddar cheese
1/2 cup of dry white wine
1/2 cup of cream cheese
cooked sausage
bread
---
Tools
Empty plastic bottles
---
Step 1/3
Cut the stem off of a pumpkin and save for later. Cut off the top of a pumpkin and clean out the inside. Drizzle with olive oil, sprinkle with salt and pepper, and place a basil leaf, a sprig of thyme, and garlic cloves in the pumpkin. Cover the pumpkin and the top completely with aluminum foil. Bake 1 hour at 350 °F. When ready scoop part of the pumpkin out and set aside.
Step 2/3
Cut the bottoms off of each plastic bottle. Melt the cheddar cheese and when cool enough to touch, line each of the bottle bottoms with cheese. Fill each cheese mold with the cooked pumpkin. Let harden, then remove from the bottle mold. Top with the pumpkin stem.
Step 3/3
Fill the pumpkin with the mozzarella, Swiss, and cheddar cheese, then pour in the wine. Cover with the cream cheese and sprinkle salt and pepper. Bake for 15 minutes at 350 °F. Place the cheese pumpkin inside the fondue and enjoy with sausage and bread!