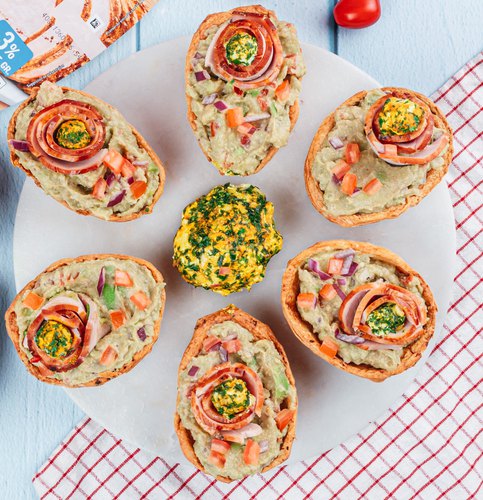 Flowery Ham & Avocado Appetizers
Flowery Ham & Avocado Appetizers! A shareable dish for the whole family 😄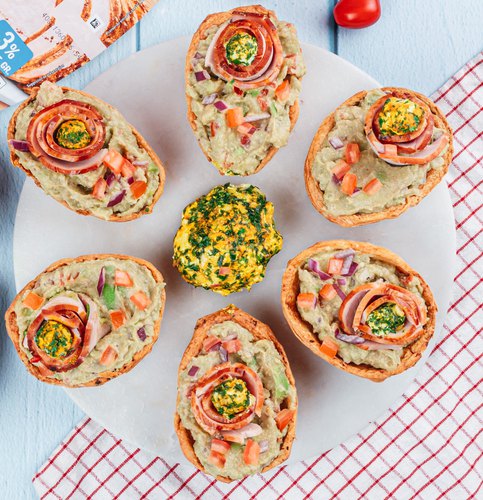 ---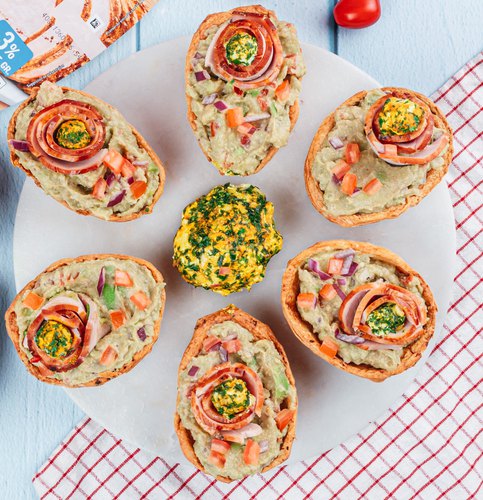 ---
Total time: 2 hours 55 minutes
Prep time: 40 minutes, Cook time: 15 minutes, Rest time: 2 hours
Ingredients for 6 people
3 avocados
2 puff pastries
6 tbsp of pesto
2 tomatoes
1 red onion
6 slices of ham
Turmeric
1 lemon
Parsley
4 oz of cream cheese
Olive oil
---
Tools
Skewers
Melon baller
---
Step 1/3
Cut the avocados in half, pit them and remove the skin from the flesh. Place the avocado skin upside down on the work surface, cover it with puff pastry and cut the puff pastry around the avocado skin. Spread the pesto on the excess puff pastry, roll it up on itself to form a roll and place the pesto roll and the shell covered with puff pastry on a baking sheet. Repeat the process to have 6. Bake for 15 minutes at 350°F.
Step 2/3
Cut the tomatoes and the red onion into pieces. Mix the flesh of the avocados, the tomato, the red onion, the lemon juice until you obtain a guacamole. Trace a spiral on the ham slices, wrap on themselves and skewer them. Mix the turmeric, the parsley, dip a melon baller in the olive oil, form 6 small balls of cream cheese, sprinkle them with the spice mix and place them in the olive oil. Repeat the process with a large scoop of cream cheese. Allow to marinate for 2 hours.
Step 3/3
Place small balls of cream cheese with spices on each ham roll. Unmold the puff pastry shells from the avocado skin, garnish them with guacamole, place the ham on each garnished shell, the large ball of spiced cream cheese in the center and enjoy!